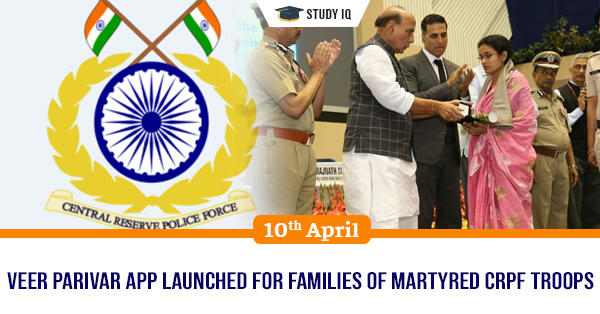 Veer Parivar App launched for families of martyred CRPF troops
Date: 10 April 2019
Tags: Defence & Security
President Ram Nath Kovind has launched Veer Parivar App for families of Central Reserve Police Force (CRPF) personnel killed in the line of duty. It was launched on the occasion of the CRPF's 'Valour Day' observed on April 9.
Veer Parivar App
It is android-based app that aims to act as interface between CRPF authorities and the next of kin of the slain personnel.

It will provide all assistance to families of the martyred CRPF personnel with regard to issuance of ex gratia, pensionary benefits on real-time basis.

It will also provide all information regarding welfare schemes introduced for them by the government.

It will be installed by CRPF officials securely on phone of families and will not be available over the app stores.

CRPF headquarters in Delhi and various group centres across the country will respond to the issues of family of slain CRPF personnel.
CRPF Valour Day
It is observed to tribute to heroic action of small contingent of 2nd Battalion of CRPF which on April 9, 1965 had successfully fought and repulsed attack by Pakistani Brigade on Sardar Post in Rann of Kutch, Gujarat.

In this action, CRPF men had eliminated 34 Pakistani soldiers and capturing four alive. This was first in history of military battles, handful of policemen had fought back a full-fledged infantry Brigade in such manner. In this conflict, six valiant CRPF men also attained martyrdom.