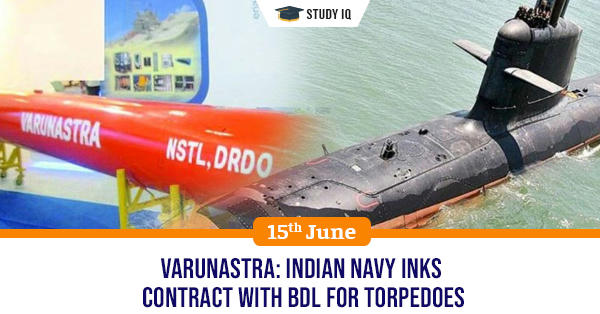 Varunastra: Indian Navy inks contract with BDL for torpedoes
Date: 15 June 2019
Tags: Defence & Security
Bharat Dynamics Limited (BDL) has signed contract worth of $US 17 million (Rs 1.190 crore) for supply of Indigenously-built heavyweight anti-submarine torpedoes- Varunastra - to Indian Navy. The execution of this contract will be over the next 42 months. Under it, torpedoes will be manufactured at BDL Visakhapatnam Unit under collaboration with Defence Research and Development Organisation (DRDO).
About Varunastra
It is a ship launched, electrically propelled underwater Heavy Weight Torpedo.

It has been indigenously developed by Naval Science and Technology Laboratory (NTSL), Visakhapatnam and Bharat Dynamics Limited -BDL (Hyderabad).

It has almost 95% indigenous content. It is equipped with one of the most advanced automatic and remote-controlled guidance systems. It uses its own intelligence in tracing the target. It can hit stealth submarines underwater.

Unique Features:

It is seven to eight metres long, weighs 1,500 kg and has diameter of 533 mm. On firing, it can travel at 40 knots (74 kmph).

It has operational range of 40 km. It can carry a warhead weighing 250 kg. It has GPS-based locating aid which is unique feature in contemporary torpedoes in the world.

It has advanced autonomous guidance algorithms with low drift navigational aids and insensitive warheads, giving it operational capability in various combat scenarios.

It has integrated instrumentation system for recording its all dynamic parameters in case of emergency shut down or malfunction.

Attack Capability:

It is capable of targeting stealthy and quiet submarines, both in deep and littoral waters in intense counter-measure environment.

Induction:

It was inducted in Indian Navy in June 2016.
What is Torpedo?
It is a self-propelled weapon with explosive warhead. It is launched above or below water surface and propelled underwater towards a target. It is designed to detonate either in proximity to its target or on contact with its target.