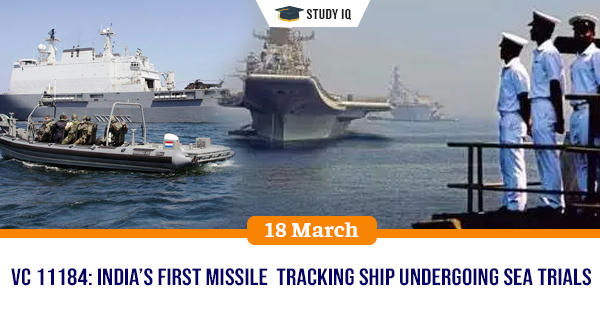 VC 11184: India's first missile tracking ship undergoing sea trials
Date: 18 March 2019
Tags: Defence & Security
India's first missile tracking ocean surveillance ship (OSS) referred as VC 11184 is undergoing sea trials. On its induction in Indian Navy, it will be part India's elaborate missile defence shield and will be primarily used for missile tracking including nuclear missiles. It already has successfully completed harbour trials. It will be shortly handed over to Ministry of Defence for induction.
OSS VC 11184
It is specialised Ocean Surveillance Ship (OSS) being built for National Technical Research Organisation (NTRO).

It has been built by Hindustan Shipyard Limited (HSL). It is being referred to as yard number VC 11184. It will get formal name to be chosen by Indian Navy once it is inducted into the naval fleet.

It has been built under highly confidential project. Its keel was laid in June 2014. was built inside covered dry dock in Visakhapatnam to keep foreign satellites and spying attempts at bay.

It has length of 175m, beam of 22m, depth of 6m. It has displacement of more than 10,000 tonnes and can attain maximum speed of 21 knots.

It is powered by two imported 9000kW combined diesel engines and three 1200 ekW auxiliary generators.

It has capacity to carry 300 crew with hi-tech gadgets and communication equipment. It also hosts large deck capable of helicopter landing.

It is fitted with primary X band and secondary S band active electronically scanned array (AESA) radars.

In addition, it has long open deck with ample space to incorporate installing multiple missile tracking antennas.

It will be primarily used for missile tracking including nuclear missiles using its onboard sensors and radars.

It will be deployed for duties to support India's strategic weapons programme. It will also be used to undertake electronic intelligence (ELINT) gathering.
Significance
VC 11184 is India's most advanced missile range instrumentation ship i.e. electronics and tracking and ocean surveillance ship.

It will be first dedicated element in Phase II of India's ballistic missile defence (BMD) setup.

Its main role will be tracking enemy missiles to accurately give data on tests that are routinely carried out of indigenous strategic missiles.

With its induction, India will join elite of club of few countries that have such sophisticated ocean surveillance ship. Only four other countries — United States, Russia, China and France are operating similar missile survelliance vessels.