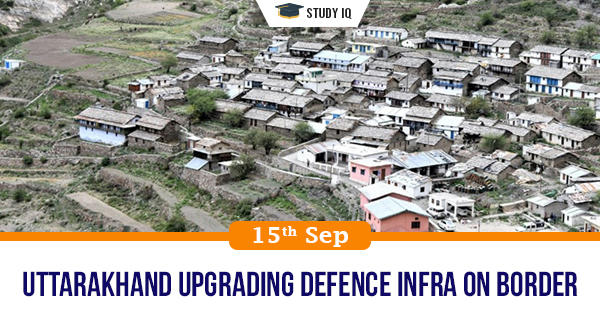 Uttarakhand upgrading defence infra on border
Date: 15 September 2020
Tags: Miscellaneous
Issue
In the context of ongoing tensions and territory issues with China and Nepal, the Uttarakhand government, along with the defence forces, has taken measures to strengthen infrastructure along its international border.
Background
Uttarakhand shares a 350-km border with China and a 275-km boundary with Nepal. Five of the state's 13 districts are border districts. Pithoragarh is strategically very sensitive as it has boundaries with both China and Nepal.
Details
In the recent development, the Uttarakhand government has agreed to provide land to the Indian Air Force (IAF) to set up air defence radars in three districts bordering China.

The IAF has also proposed to develop a new Advanced Landing Ground to facilitate its activities in the hill areas.

The Advanced Landing Ground in Uttarakhand would be useful for refuelling of aircraft, and for loading and unloading of ammunition.

The state cabinet earlier this month approved a proposal for the expansion of a helipad at the Kedarnath shrine in Rudraprayag district to make it suitable for operating the IAF's Chinook multi-mission choppers.

The Uttarakhand cabinet has approved an amendment in the state's information technology (IT) policy to provide incentives of up to Rs 40 lakh to facilitate private telecom companies to install towers in "dark villages" in which telecommunication facilities are unavailable at present.

Villagers in border areas have traditionally acted as the eyes and ears of the defence forces, and telecommunications are a force multiplier in this regard.

The Uttarakhand State Wildlife Advisory Board gave the go-ahead to transfer over 73 hectares of forest land in Gangotri National Park in Uttarkashi district for the development of roads.