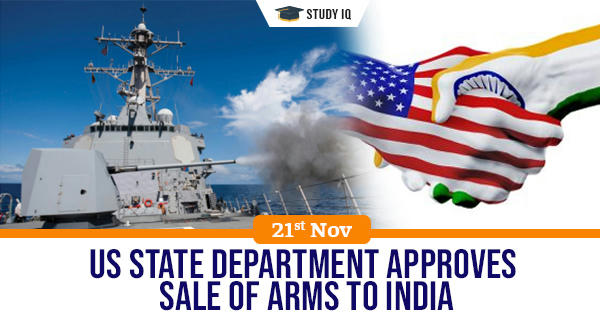 US state department approves sale of arms to India
Date: 21 November 2019
Tags: Miscellaneous
Issue
The US State Department has approved an arms deal for India valued at just over $1 billion, according to a press statement from the Department of Defense (DoD).
Background
The sale approval was in response to a Government of India request to buy the guns and 3,500 D349 Projectile, 5"/54 MK 92 MOD 1 Ammunition. The proposed sale will include ammunition, spare parts, training of personnel and equipment, technical data, publications, technical and logistical assistance and transport.
Details
The Defense Security Cooperation Agency (DSCA), the DoD body that implements the U.S.'s Foreign Military Sales (FMS) program, delivered its certification of the proposed sale to the U.S. Congress.

The Congress has a thirty day window from when the certification is received to raise any objections to the sale.

The MK-45 Gun System will provide the capability to conduct antisurface warfare and anti-air defense missions while enhancing interoperability with U.S. and other allied forces.

India is planning to use the enhanced capability as a deterrent to regional threats and to strengthen its homeland defense.
India-US defence agreements
The U.S. has four foundational agreements that it signs with its defence partners.
The first of the four agreements, the General Security Of Military Information Agreement (GSOMIA), was signed by India and the U.S. in 2002. The agreement enables the sharing of military intelligence between the two countries and requires each country to protect the others' classified information.

The second agreement, the Logistics Exchange Memorandum of Agreement (LEMOA), was signed by the two countries on 29 August 2016. The LEMOA permits the military of either country to use the others' bases for re-supplying or carrying out repairs.

The third agreement, Communications Compatibility and Security Agreement (COMCASA) was signed during the inaugural 2+2 dialogue in September 2018. It is an India-specific variant of Communications and Information Security Memorandum of Agreement (CISMOA) that enables the two countries to share secure communication and exchange information on approved equipment during bilateral and multinational training exercises and operations.

The fourth agreement, Basic Exchange and Cooperation Agreement (BECA) has not yet been signed. It permits the exchange of unclassified and controlled unclassified geospatial products, topographical, nautical, and aeronautical data, products and services between India and the US National Geospatial-Intelligence Agency (NGA).
Nuclear cooperation
The India–United States Civil Nuclear Agreement also referred to as the "123 Agreement", is a bilateral agreement for peaceful nuclear cooperation which governs civil nuclear trade between American and Indian firms to participate in each other's civil nuclear energy sector.