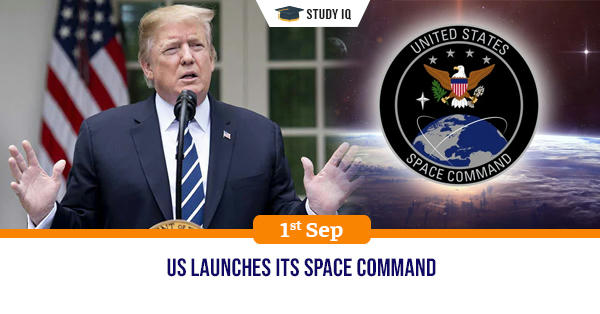 US launches its space command
Date: 01 September 2019
Tags: Policy
Issue
US President Donald Trump on Thursday formally launched the Space Command, which is expected to defend America's vital interests in "the next war-fighting domain".
Background
Just like land, air, sea, and cyber as vital war-fighting domains, and space will be treated as an independent region overseen by a new unified geographic combatant command. It recognises the centrality of space to America's national security and defence.
Existing war Domains
This U.S. Military doctrine recognizes at least five dimensions, or 'domains of warfare' for which it is responsible. They are:
Land




Sea




Air




Space




Information
Details
Gen John W Raymond will be the commander of the US Space Command, which has been established as the 11th Unified Combatant Command of the American armed forces.

The Space Command will soon be followed by establishment of the United States Space Force as the sixth branch of the United States Armed Forces.
Effects of Space command
It is criticised that it will drain resources and create needless red tape. And there are additional disagreements, including how to define "war fighting" in space and partisan bickering.

This would weaponise outer space which will be a great threat to the idea of free outer space usage.