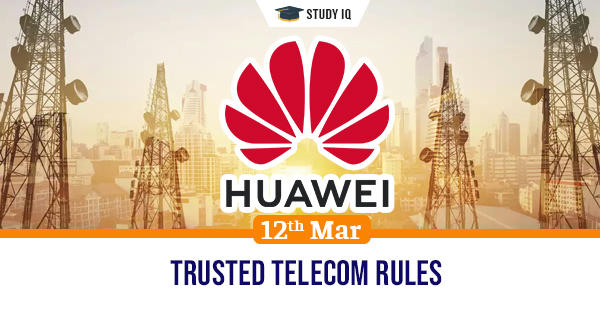 Trusted telecom rules
Date: 12 March 2021
Tags: Miscellaneous
Issue
The Telecom Department has made changes to licensing policy and has made telecom companies to source their components from 'trusted telecom equipment sources'.
Background
There have been various forms of opposition to Chinese developed equipments as they are accused of stealing user data. The government plans to follow some of global trend.
Details
A trusted telecom source is a product, a company, or a technology that has been termed safe by the government of a country for use in important and critical infrastructure.

Countries such as China, the US, Russia, Japan have a lead over others in developing new technology that would improve telecommunications.

Due to geopolitics, every country accuses other of using their technology to spy on people. They have turned into rivals, making efforts to downsize others.

This move resulted in countries forming their own set of companies that could be trusted to supply crucial equipments for sectors such as telecom.

The government of India had set up a new National Security Directive on telecommunication sector to classify products under 'trusted' and 'non-trusted' categories.

Telecom companies can use products in their network after being approved by the National Cyber Security Coordinator.
New notification
The DoT has changed the telecom licensing conditions and has included defence and national security as criteria for the purchase of trusted telecom products and from trusted sources.

Telecom companies will not be allowed to use any component that does not appear on the trusted telecom equipment source list or the trusted telecom product list.
Implications
The government can ask telecom companies not to use products which it has deemed unsafe if defence and national security as parameters are not followed.

If a telecom company wants to use any equipment that does not come from a trusted source or is not present on the list of trusted telecom products, it will have to take prior permission from National Cyber Security Coordinator.

It will become more difficult for Chinese telecom equipment suppliers like Huawei and ZTE to supply products to Indian telecom companies in the future.