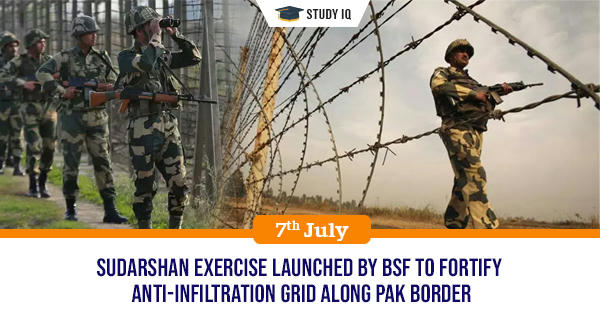 Sudarshan Exercise launched by BSF to fortify anti-infiltration grid along Pak border
Date: 07 July 2019
Tags: Defence & Security
Border Security Force (BSF) has launched mega exercise code named 'Sudarshan' to fortify the 'anti-infiltration grid' along the Pakistan border in Punjab and Jammu. It was launched on July 1, 2019 and will cover the entire over 1,000-kms length of the India-Pakistan International Border (IB). Jammu shares about 485-kms of sensitive IB with Pakistan, about 553-kms of front is in Punjab. Further, it runs down towards Rajasthan and Gujarat on India's western flank.
Sudarshan Exercise
It has been named 'Sudarshan' drawing from legendary and mythological cutting wheel or 'sudarshan chakra' on Lord Krishna's finger that decimates enemy with sharp precision and returns to its original place in quick time, official sources said.

Huge assortment of heavy machinery, communication interceptors and mobile bulletproof bunkers have been mobilised, backed by thousands of BSF personnel as part of the exercise.

Multiple patrols are being undertaken to strengthen Indian defence positions and locations for launching offensive action at these borders from point of view of sealing front against infiltration of terrorists, drug mules and also to ensure befitting reply to unprovoked firing from Pakistani side.

Commanders of BSF will prepare their watch towers and sentry posts better, replenish arms and ammunition dumps, strengthen artillery positions, check and plug border fence breaches, detect underground and cross-border tunnels and make all operational and logistical arrangements to strengthen the vigil along the sensitive and infiltration-prone border.
About Border Security Force (BSF)
It is primary border guarding organisation of India. It is termed as First Line of Defence of Indian Territories. It is sentinels of Indian borders with Pakistan and Bangladesh.

It was established in December, 1965 in the wake of 1965 Indo-Pak War or ensuring security of borders of India and for matters connected there with.

It is one of the five Central Armed Police Forces of Union of India under the administrative control of Ministry of Home Affairs (MHA).

It is mandated with guarding India's land border during peacetime and preventing transnational crime. Currently, it stands as the world's largest border guarding force.

It has total 186 battalions with sanctioned strength of 257,363 personnel including expanding air wing, marine wing, artillery regiments, and commando units.

It is deployed on Indo-Pakistan International Border (IB), Indo-Bangladesh IB, Line of Control (LoC) along with Indian Army and also in anti-naxal operations.