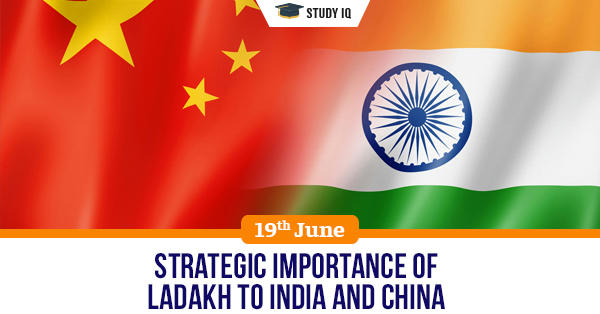 Strategic importance of Ladakh to India and China
Date: 19 June 2020
Tags: Miscellaneous
Issue
Ladakh and its surrounding area of Aksai Chin has been in news due to the contention between India and China to extend their sovereignty.
Background
In July 1958, an official monthly magazine in China named China pictorial published a map of the country that would become a bone of contention between India and its East Asian neighbour.
Details
The importance of Ladakh to both India and China is rooted in complicated historical processes that led to the territory becoming part of the state of Jammu and Kashmir, and China's interest in it post the occupation of Tibet in 1950.

Up until the Dogra invasion of 1834, Ladakh was an independent Himalayan state, much the same way as Bhutan and Sikkim. Ladakh was part of the Tibetan empire which broke up after the assassination of King Langdarma in 742 CE.

Thereafter it became an independent kingdom, though its borders fluctuated at different periods of its history and, at times included much of what is now western Tibet.

Economically, the importance of the region stemmed from the fact that it was an entrepôt between central Asia and Kashmir. At the same time, there was a flourishing trade route across the Karakorum pass to Yarkand and Kashgar to Chinese Turkestan.

The British legacy of the map of the territory though continued to remain the ground upon which India laid its claim on the area. The claims of both governments rested in part on the legacy of imperialism; British imperialism (for India), and Chinese imperialism (over Tibet) for China.

The annexation of Tibet by the People's Republic of China in 1950 sparked newfound interest in Ladakh, and particularly so after the 1959 Tibetan uprising that erupted in Lhasa when the Dalai Lama fled into exile and was granted political asylum in India.

There are two main reasons for rising conflict. Firstly, up to 2013 India's infrastructural development in that area was minimal. From 2013, India started pushing for infrastructure projects there and by 2015, it became a major defence priority.

Second is the August 5, 2019 decision (to remove the special status of Jammu and Kashmir and downgrade the state into two Union Territories). From the Chinese point of view, they would have assumed that if India makes Ladakh a Union Territory, they would be reasserting its control over the entire state.