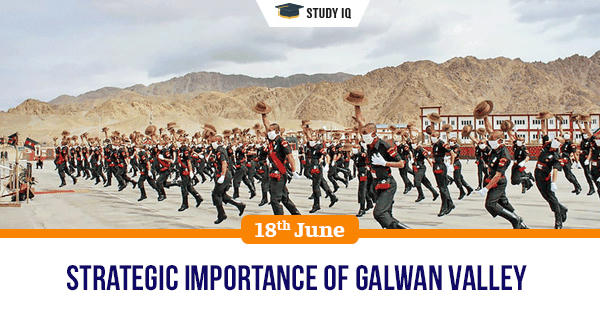 Strategic importance of Galwan valley
Date: 18 June 2020
Tags: Miscellaneous
Issue
The Galwan valley in eastern Ladakh saw a violent face-off between Indian and Chinese troops on June 15 resulting in casualties on either side, has strategic significance because of its proximity to the vital road link to Daulat Beg Oldie (DBO).
Background
The Daulat Beg Oldie (DBO) is the world's highest landing ground that lies close to the Line of Actual Control and serves as an important aerial supply line.
Details
India is engaged in building up border infrastructure in this area, including the all weather 255 km Darbul-Shayok- DBO road.

The road runs almost parallel-at places very close-to the LAC and extends up to the base of the Karakoram pass, which when complete, will reduce the travel time from Leh to DBO from the present two days to just six hours.

Road and bridge construction works have recently been speeded up with a large number of labourers being ferried in.

The Galwan valley connects with Shyok on the road under construction and lies between DBO and Chushul to the south near Pangon Tso, another hot spot, providing convenient access to Shyok and the areas beyond.

Control of the ridgeline along the valley also allows domination of the road. Looking eastwards, control of the Galwan valley gives access to the Aksai Chin plateau, through which part of the Xinjiang-Tibet highway passes.

The road serves a vital peace time role in maintaining forward posts and building up reserves. An alternate route to DBO is being developed from a different axis in Ladakh that has adequate depth from the LAC.

The Galwan river is to the west of China's 1956 claim line in Aksai Chin. However, in 1960 China advanced its claim line to the west of the river along the mountain ridge adjoining the Shyok river valley.

During the 1962 Sino-Indian conflict, Indian posts in the Galwan Sector were attacked and overwhelmed by the Chinese, resulting in casualties and some prisoners-of-war. After the war, this sector largely remained dormant till the recent face-offs.