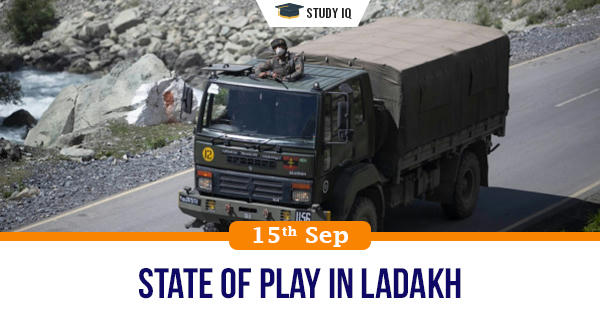 State of play in Ladakh
Date: 15 September 2020
Tags: Miscellaneous
Issue
The People's Liberation Army has deployed over two regular divisions along with supporting arms and logistic services as back-up. India too, has about two regular Army divisions supported by the Indian Air Force in this sector now.
Background
Along the Line of Actual Control (LAC), the PLA has now occupied many areas which were earlier considered 'disputed', that is, lying between Chinese and Indian perceptions of the LAC.
Details
On Finger 4, north of Pangong Tso, the opposing troops are deployed a few hundred metres apart. On the south bank of Pangong Tso, they are occupying heights that overlook each other's military camps and vital road communications.

The pre-emptive occupation of the Kailash Range by Indian troops on August 29-30, and the PLA's provocative action on September 7, has made the situation on the ground, particularly in the Chushul sector, is indeed very tense and explosive.

On the north bank of Pangong Tso, there are eight major finger-like spurs coming down to the Tso (lake). From heights along these spurs, one can observe military activity on the north and south banks of Pangong Tso.

In May, the PLA occupied the disputed area, deployed troops on Finger 4, and blocked Indian troops, which used to earlier patrol the areas up to Finger 8.

Heights in the mountains enable observation of the adversary's military activities in the (visible) area, and the ability to bring down accurate direct and indirect fire on the chosen enemy target.

In Demchok, the PLA has been objecting to India's non-military developmental activities — road and water channel — for India's civilian population.

There has been an LAC-related dispute in the Depsang Plains in Sub Sector North. In April 2013, the PLA troops set up a temporary camp in our area, but later withdrew. They have again occupied some area claimed by us.

In the recent incidents, China has deliberately violated all the confidence-building agreements and the perceived alignment of the LAC until now.

The IAF has a crucial role at the strategic and operational levels. Besides its primary role of protecting air space and vulnerable areas/assets, it will be actively engaged in aerial reconnaissance, destroying enemy targets, and providing tactical and logistic support to the Army.