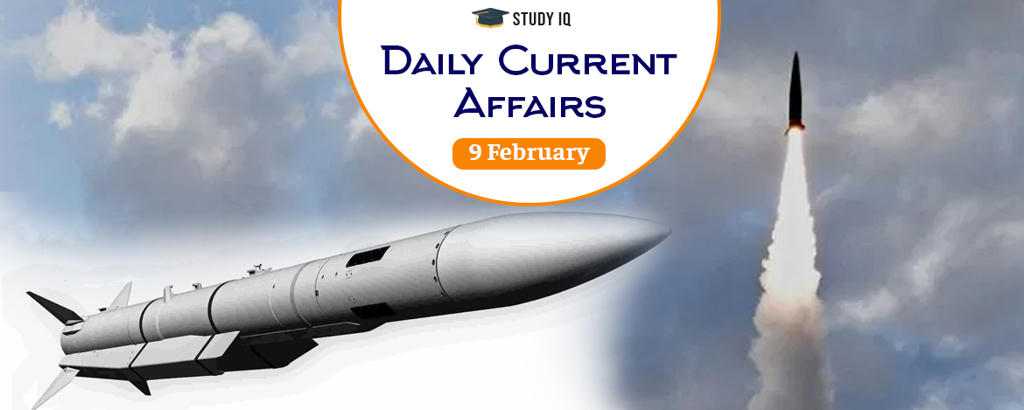 SFDR propulsion-based missile successfully test fired
Date: 09 February 2019
Tags: Miscellaneous
Defence Research Development Organisation (DRDO) has successfully conducted second test of indigenously developed Solid Fuel Ducted Ramjet (SFDR) propulsion-based missile system. It was fired from static launcherat Integrated Test Range (ITR) in Balasore off Odisha coast.
About Test
After launch, this missile system was guided to high altitude to simulate aircraft release conditions and subsequently nozzle-less-booster was ignited.

It flew along intended trajectory at speed of Mach 3 (thrice speed of sound) and performed perfectly, validating new indigenous technology.

It meetall its mission objectives and even performance of separation of ground booster and nozzle-less-booster performance were found satisfactory.
SFDR propulsion-based missile system
It has been indigenously by DRDO under joint Indo-Russia R&D project. Its first flight was tested in 2018 and had achieved speed of Mach 3. It is viewed as Indian version of the French Meteor.

The ramjet propulsion system used in it acts as oxidizer and solid propellant reacts as air flows through solid propellant duct.

Unlike conventional rockets that carry propellant and oxidizer, its ramjet engine uses air as oxidizer just like jet engine. Therefore, it eliminates weight of the fuel required.

It is designed in such way that it allows for up and down throttling of missile. This further lets missile to amplify its speed until it reaches terminal phase of flight.

The speed increases until the point when sharp turns are required to search for highly manoeuvring targets.
How it is different?
Present missile systems, which use booster/sustainer configuration with solid or liquid propellants onboard, which limits its maneuvering at moving targets. It also cannot provide enough energy to maintain their speed in order to hit the targets.

But, unlike traditional rocket motor, SFDR can throttle its engine during different phases of flight especially while approaching its target. It can also throttle up and down, thus it can maneuver and attack even rapidly maneuvering targets.
Significance
Success of SFDR propulsion technology is considered as significant milestone in strategic missile program and indigenousation of defence technology.

It will exceptionally enhance endgame maneuverability of missiles at terminal stage when the seeker is locked onto target.

It will pave way for development of long range air-to-air missiles in the country.It will enable these missiles perform better and enhance their strike range, making the weapons more lethal.

With this, India can have fastest long-range missiles in two categories, providing full-fledged and multi-layered aerial protection from hostile attacks.