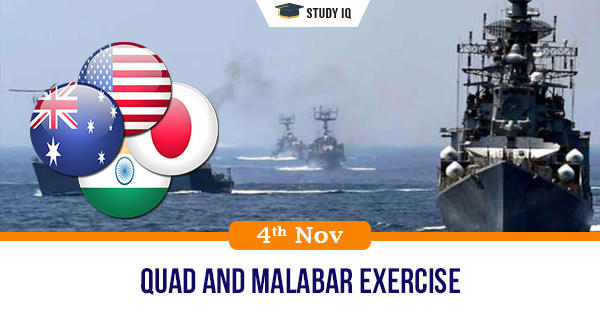 QUAD and Malabar exercise
Date: 04 November 2020
Tags: Miscellaneous
Issue
Australia's participation in the annual Malabar exercises marks the emergence of the Quad as a new feature of the Indo-Pacific geopolitics.
Background
After the withdrawal of Australia from QUAD in 2008, the grouping took a backseat. After the resurgence of Chinese threats, the group is being revived.
Details
QUAD
The Quadrilateral Security Dialogue (QSD, also known as the Quad) is an informal strategic forum between the United States, Japan, Australia, and India that is maintained by semi-regular summits, information exchanges, and military drills between member countries.

The forum was initiated as a dialogue in 2007 by Prime Minister Shinzo Abe of Japan, with the support of Vice President Dick Cheney of the US, Prime Minister John Howard of Australia, and Prime Minister Manmohan Singh of India.

The diplomatic and military arrangement was widely viewed as a response to increased Chinese[a] economic and military power.

The Quadrilateral was supposed to establish an "Asian Arc of Democracy," envisioned to ultimately include countries in central Asia, Mongolia, the Korean peninsula, and other countries in Southeast Asia.

The Quad also draws comparisons by Asian commentators to NATO. China negatively portrays the Quad as a precursor to a militarised Asian NATO.
Malabar Exercise
It is a multilateral naval exercise that includes simulated war games and combat manoeuvres. It started in 1992 as a bilateral exercise between the Indian and US navies. Japan joined in 2015.

This year the exercise will be held in two phases, the first off the coast near Visakhapatnam, and the second in the Arabian Sea in mid-November.

India seeks to increase cooperation with other countries in the maritime security domain and in the light of increased defence cooperation with Australia, Malabar 2020 will see the participation of the Australian Navy.

As the standoff in eastern Ladakh continues, the participation of four large navies from the Indo-Pacific region will send a message to China.