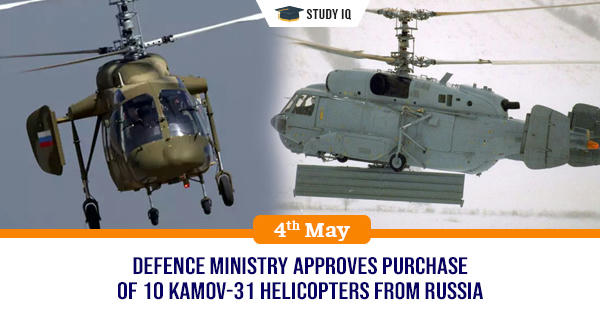 Defence Ministry approves purchase of 10 Kamov-31 helicopters from Russia
Date: 04 May 2019
Tags: Defence & Security
Defence Acquisition Council (DAC) chaired by Defence Minister Nirmala Sitharaman has approved procurement of 10 Kamov Ka-31 Airborne Early Warning and Control helicopters for Indian Navy. The cost of the deal will be around Rs 3,600 crore.
Key Facts
These 10 Kamov Ka-31 helicopters will be deployed on aircraft carriers and warships of Indian Navy including the INS Vikrant and Grigorovich-class frigates.

They will be used to sanitise air space around battle groups led by aircraft carriers while carrying out operations in sea or anti-submarine warfare operations.
Background
Indian Navy already has fleet of 12 of these Kamov-28 choppers which sanitise air space around aircraft carriers and destroyers operating in open seas. They are also used along with the Seaking choppers for the anti-submarine warfare operations. These choppers were procured long back in 1980s. Kamov-31 helocopters are advanced and upgraded version of Kamov-28 helicopters.