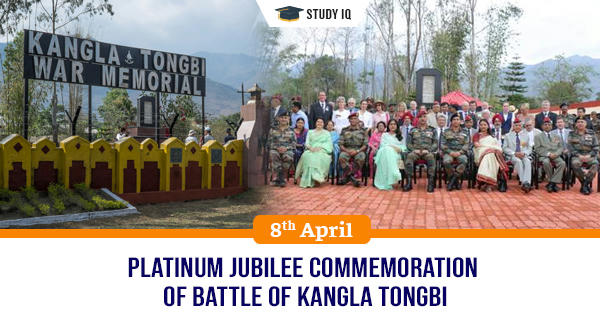 Platinum Jubilee Commemoration of Battle of Kangla Tongbi
Date: 08 April 2019
Tags: Miscellaneous
The platinum jubilee commemoration (75th Anniversary) of Battle of Kangla Tongbi (Battle of Kohima) was observed in Nagaland on 7 April 2019 by Army Ordnance Corps at Kangla Tongbi War Memorial near Imphal, Manipur. It honoured valiant brave hearts of Ordnance Personnel of 221 Advance Ordnance Depot who made their supreme sacrifice in the line of duty during battle of World War-II on the night of 6/ 7 April 1944.
Battle of Kangla Tongbi
It was one of the fiercest battles of World War II. It fought by Ordnance personnel of 221 Advance Ordnance Depot (AOD) of then British Indian Army on the night of 6/7 April 1944 against Japanese forces.
Japanese Army had planned three pronged offensives to capture Imphal and surrounding areas. At Kangla Tongbi, a small detachment of 221 AOD put up stiff resistance against advancing Japanese forces.
This battle signified unflinching devotion to duty of Ordnance personnel of 221 AOD. It conveys to the world at large that Ordnance personnel, apart from being professional logisticians, are second to none in combat, being equally proficient soldiers, should the occasion demand.