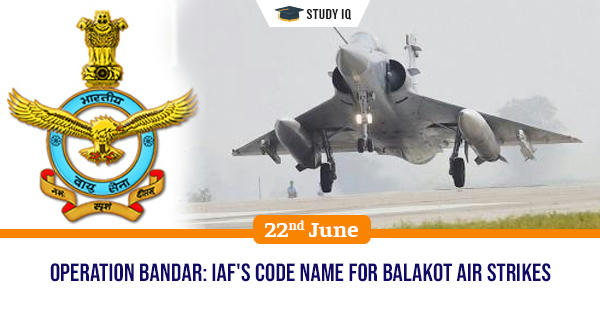 Operation Bandar: IAF's code name for Balakot air strikes
Date: 22 June 2019
Tags: Miscellaneous
The Indian Air Force (IAF) air strike mission to bomb Jaish-e-Mohammed (JeM) terrorist hideout in Pakistan's Balakot on February 26, 2019 was codenamed 'Operation Bandar (Monkey)'. This cross-border airstrike was rare instance when Indian Air Force (IAF) for first time crossed Line of Control (LoC) in Jammu and Kashmir and bombed targets in Pakistani territory.
Why code named Operation Bandar?
The code name was given as nondescript, mundane tag to air strikes, in order to maintain secrecy and ensure that plans about Balakot operations are not leak out. However, there was not any specific reason behind name chosen but in general monkeys had cultural significance and held special place in India's war culture such as in Ramayana, where Lord Rama's lieutenant Lord Hanuman swiftly sneaked into Lanka and destroyed entire capital city of Ravana.
Balakot Airstrike
It was termed as "intelligence-led, non-military, pre-emptive" operation aimed at targeting camp run by JeM in Balakot, a town located in the Pakistan's Khyber-Pakhtunkhwa province. It was conducted in response to February 14, 2019 Pulwama suicide attack, in which 40 jawans of the Central Reserve Police Force (CRPF) were killed. JeM had claimed responsibility for Pulwama suicide bombing. Two weeks later, under Operation Bandar, IAF's Mirage-2000 fighter jets took off from their home airbases in Gwalor India before dawn on February 26, crossed LoC in J&K and targetted JeM terror camp in Balakot with precision, guided SPICE missiles.