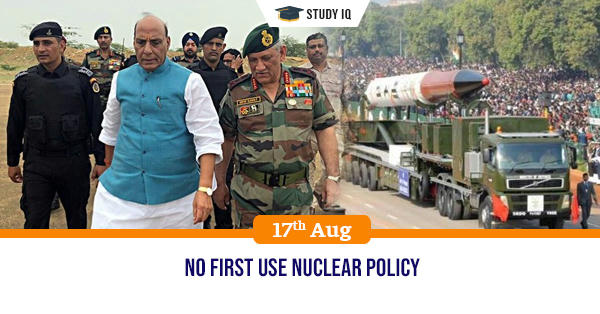 No first use nuclear policy
Date: 17 August 2019
Tags: Policy
Issue
Defence minister Rajnath Singh has indicated that India's 'no first use Nuclear Policy' needs a re-thinking.
Background
No first use

(NFU) refers to a pledge or a policy by a nuclear power

not to use nuclear weapons

as a means of warfare

unless first attacked by an adversary using nuclear weapons. Earlier, the concept had also been applied to chemical

and biological warfare

.

The NFU policy has often been held up by Indian diplomats, government spokespeople, and various strategists as proof of India's status as a responsible nuclear power.
Features of Policy
India may abandon the policy and launch a preemptive strike against Pakistan or any other country if it believed that the country was going to use nuclear weapons against it.

India's preemptive strike may not be conventional strikes and would also be aimed at Pakistan's missiles launchers for tactical battlefield nuclear warheads.
Current policy
Most states with nuclear weapons maintain policies that would permit their first use in a conflict. Pledges to only use these weapons in retaliation for a nuclear attack or a no-first-use (NFU) policy are rare. When these pledges have been made by any nuclear state, their adversaries generally consider them not credible.

India first

adopted a "No first use" policy after its second nuclear tests, Pokhran-II, in 1998. The Indian government follows a doctrine which asserts that nuclear weapons are solely for deterrence and that India will pursue a policy of "retaliation only".