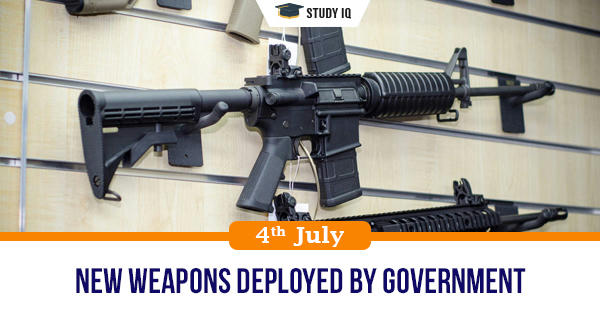 New weapons deployed by government
Date: 04 July 2020
Tags: Miscellaneous
Issue
The Defence Acquisition Council (DAC) chaired by Defence Minister Rajanth Singh has cleared several proposals that will boost the combat capabilities of all three services—Army, Navy and the Air Force.
Background
As the government expects the standoff with China to continue well into the winters, the armed forces are ready for the long-haul.
Details
Pinaka missile system
It will enable raising additional regiments over and above the ones already inducted. It is an all-weather, indirect fire, free flight artillery rocket system.
The Pinaka weapon system consists of Rocket, Multi Barrel Rocket launcher, Battery Command Post, Loader cum Replenishment Vehicle, Replenishment Vehicle and Digicora MET Radar.
Astra Missiles
Astra Missiles, with Beyond Visual Range capability will serve as a force multiplier and immensely add to the strike capability of Navy and Air Force.
The BVR class of Air-to-Air Missile (AAM) system is designed to be mounted on fighter aircraft and can be engaged to destroy highly manoeuvring supersonic aircraft.
MIG 29 and Su-30 MKI
It is a twin-engine, multirole fighter jets, developed by the Soviets in the 1970s, but has been upgraded since. Russia will also upgrade existing 59 Mig-29 aircraft of India.
Long-Range Land Attack Cruise Missile Systems (LRLACM)
It is aimed at enhancing India's firing range from between 400 km and 500 km of the Brahmos to 1000 km. The seeker development and testing by DRDO laboratories, it said, are demonstrated and is at a high-level of readiness.
The proposed development of fully indigenous long-range land-attack cruise missile can greatly enhance the operational capability of services.