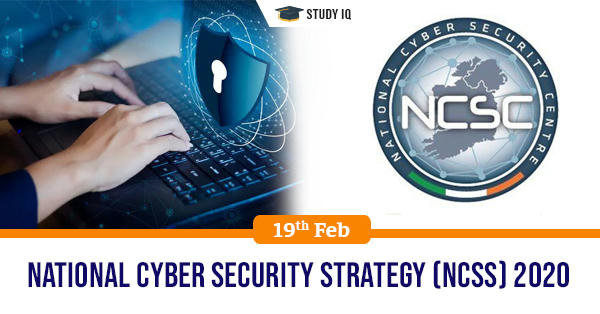 National Cyber Security strategy (NCSS) 2020
Date: 19 February 2020
Tags: Defence & Security
Issue
The draft of National Cyber Security Strategy 2020, that envisages creating a secure cyberspace in India, is ready and will soon be sent to key ministries for comments before seeking the Cabinet approval.
Background
The vision of the strategy is to ensure a safe, secure, resilient, trusted and vibrant cyberspace for India's prosperity.
Details
The National Cyber Security Strategy 2020 is being prepared to fill the gaps and meet the target envisaged in National Cyber Security Policy 2020.

India is actively walking towards a National Cyber Security Policy which is imperative for the goal of a USD 5 trillion economy.
Need for NCSS 2020
India was one of the first few countries to propound a futuristic National Cyber Security Policy 2013(NCSP 2013). Since the adoption of NCSP 2013, the technologies, platforms, threats, services and aspirations have changed tremendously.

However, Cyber intrusions and attacks have increased in scope and sophistication targeting sensitive personal and business data, and critical information infrastructure, with impact on national economy and security.

Threats from organised cybercriminal groups, technological cold wars, and increasing state sponsored cyber-attacks have also emerged. Further, existing structures may need to be revamped or revitalised. Thus, a need exists for the formulation of a National Cyber Security Strategy 2020.
Pillars of Strategy
a. Secure (The National Cyberspace)
b. Strengthen (Structures, People, Processes, Capabilities)
c. Synergise (Resources including Cooperation and Collaboration)