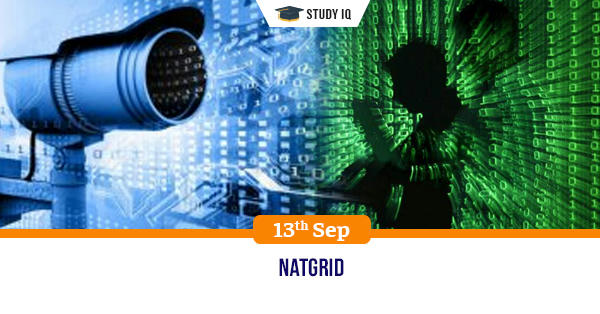 NATGRID
Date: 13 September 2019
Tags: Miscellaneous
Issue
The National Intelligence Grid (NATGRID) project wants to link social media accounts to the huge database of records related to immigration entry and exit, banking and telephone details.
Background
The project is an online database for organising scattered pieces of information and putting them on one platform. At least 10 central agencies like Intelligence Bureau (IB), Research and Analysis Wing (R&AW) and others will have access to the data on a secured platform.
Details
The NATGRID links intelligence and investigation agencies. The 10 user agencies will be linked independently with certain databases that would be procured from 21 providing organisations and include telecom, tax records, bank, immigration, etc. to enable the generation of intelligence inputs.

The project has been aimed to solve the issue of "entity resolution" through artificial intelligence.

NATGRID will not only help to trace the current location of the suspect but also aid in backtrack-ability. The processing speed is likely to be much faster.

Functional NATGRID will help in real-time tracking of a terror operative or suspect.
Opposition for NATGRID
Intelligence agencies have opposed the NATGRID due to fears that it would encroach on their territory and possibly result in leaks on the lead, which they were working, to other agencies.
Linking the database to social media accounts could jeopardise the entire exercise as it could be exposed to unknown virus attacks from open source Internet