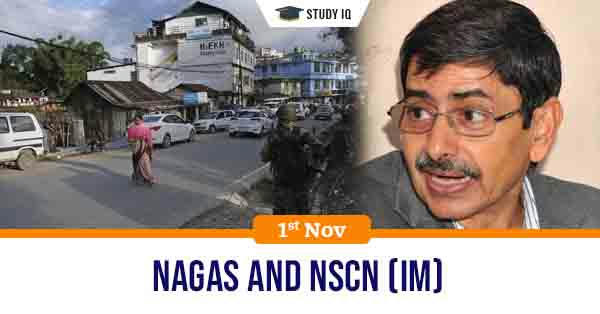 Nagas and NSCN (IM)
Date: 01 November 2019
Tags: Tackling Security Threats
Issue
Naga interlocutor R.N. Ravi said that discussions to finalise the Naga accord continue and the National Socialist Council of Nagaland (Isak-Muivah) [NSCN-IM] had come on board.
Background
Mr. Ravi had told that the Naga peace process will conclude by October 31 adding that there would be no separate flag or constitution for the Nagas as being demanded by NSCN-IM.
He had also accused the NSCN-IM of delaying the talks to find a solution to the decades-old Naga issue.
Details
The NSCN-IM has been fighting for 'Greater Nagaland' or Nagalim, where it wants to extend Nagaland's borders by including Naga-dominated areas in neighbouring Assam, Manipur and Arunachal Pradesh to unite 1.2 million Nagas.

The Centre has however, ruled out any disintegration of the States of Assam, Arunachal Pradesh and Manipur in order to merge the Naga-inhabited areas with the existing State of Nagaland.
Naga issue
The Naga insurgency, climaxing in 1956, was an armed ethnic conflict led by the Naga National Council (NNC) which aimed for the secession of Naga territories from India.

The more radical sectors of NNC created the Federal Government of Nagaland (FGN) which also included an underground Naga Army.
NSCN
The National Socialist Council of Nagaland (abbreviated NSCN) is a Naga nationalist separatist group operating mainly in Northeast India, with minor activities in northwest Myanmar (Burma) until 2012.

The main goal of the organisation is to establish a sovereign Naga state, "Nagalim", which would consist of all the areas inhabited by the Naga people in Northeast India and Northwest Myanmar. The group is currently fighting for independence of Nagaland from India.