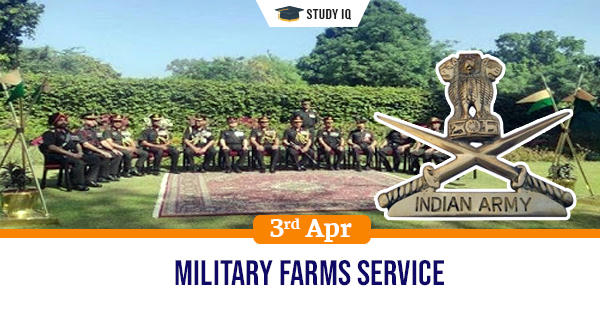 Military Farms Service
Date: 03 April 2021
Tags: Miscellaneous
Issue
The Indian Army has closed the Military Farms Service that managed more than 130 military farms across the country.
Details
The first military farm was set up at Allahabad in 1889 by the British to ensure supply of nutritious milk to the troops deployed in India.

The farms were initially were located in central, western and Southern command of the army and were later expanded to Northern and Eastern Commands when they were raised.

They were also tasked with supplying hay to the Animal Transport Units of the army, apart from supplying milk and butter.

Military farms were pioneers of artificial insemination in cows. They undertook 'Project Frieswal' in collaboration with Ministry of Agriculture for cross-cattle breeding programmes.
Project Frieswal
Project Frieswal was aimed at developing milch cattles through cross-breeding that were suitable for tropical countries such as India.

The project was intended to produce and rear Holstein Friesian cross bread with Sahiwal breed for high milk productivity.

Freezing semen, planned breeding, progeny testing and gene mapping were some of the aspect in which the project research was carried out.
Reason for closing
The growth of dairy sector in India has ensured that milk can be procured from any part of the country without exclusively dependent on military farms.

The Shekatkar committee on military reforms had also recommended that the military farms be closed down and responsibility of supplying milk products be given to Army Service Corps (ASC).
Staff and cattle
The cattle held by the Military Farms will be sold to state cooperatives for a nominal fee. This is done to ensure all cattle are sold before closing the farms.

The staff of Military Farm Service will be transferred to other departments of the Ministry of Defence.

The government is expected to save about Rs 280 crore that it spends annually on maintenance of cattle and salary of personnel working in the farms.

The land belonging to the Farm Service will be disposed off as there are no plans of developing those lands individually.