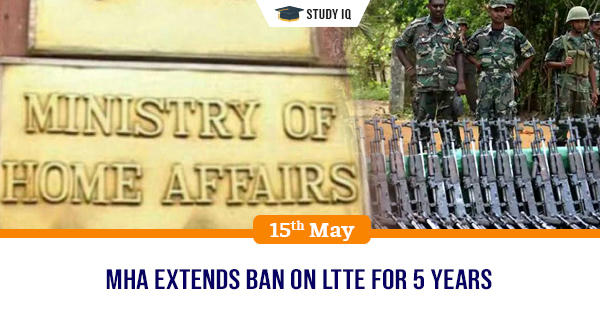 MHA extends ban on LTTE for 5 years
Date: 15 May 2019
Tags: Tackling Security Threats
Union Ministry of Home Affairs (MHA) has extended ban on Tamil militant group- Liberation Tigers of Tamil Eelam (LTTE) for another five years. The ban was extended under sub-sections (1) and (3) of Section 3 of the Unlawful Activities (Prevention) Act, 1967 (37 of 1967) with immediate effect by declaring LTTE as an Unlawful Association. LTTE was banned by India under UAPA after it had assassinated former Prime Minister Rajiv Gandhi in 1991. The last ban on it was extended for 5 years in 2014.
Reasons for extension of ban
LTTE has "strong anti-India posture" and "grave threat to security of Indian nationals". Its disruptive activities are prejudicial to integrity of India and poses a grave threat to the security of Indian nationals.

Even after its military defeat in May 2009 in Sri Lanka, it has not abandoned concept of Eelam and is still undertaking fundraising and propaganda activities for its cause in Europe. The pro-LTTE groups and Tamil chauvinist groups patronized by it still continue to foster separatist tendency amongst masses in India particularly in southern state of Tamil Nadu.

The activities of LTTE remnant cadres and supporters have been traced out recently by security agencies in Tamil Nadu. It is spreading anti-India feeling amongst Sri Lankan Tamils through articles in the Internet portals by holding Government of India responsible for the defeat of the LTTE.
Liberation Tigers of Tamil Eelam (LTTE)
It is terror outfit based in Sri Lanka. It was founded in 1976 by Velupillai Prabhakaran with the goal of creating independent Tamil Eelam out of Sri Lanka. Its objective is to secure independent homeland for all Tamils Eelam in Sri Lanka. Once it had territorial hold in north and east of Sri Lanka (areas comprising Tamil Majority). It was defeated in 2009 by Sri Lankan Army and its founder Velupillai Prabhakaran was killed in the fighting.
Unlawful Activities (Prevention) Act, 1967
It is India's primary anti-terror law that provide for more effective prevention of certain unlawful activities of individuals and associations, and for dealing with terrorist activities, and for matters connected therewith.
Section 3 of the UAPA: It deals with declaration of an association as unlawful. It gives necessary powers to Government to make such declaration on grounds it may consider necessary. Organisations banned by Ministry of Home Affairs (MHA) under Section 3 of the UAPA are listed in the First Schedule of the Act.