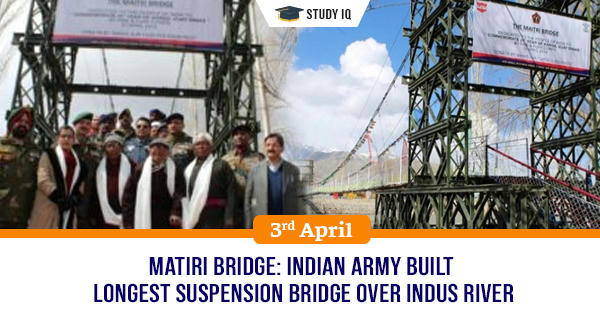 Matiri Bridge: Indian Army built longest suspension bridge over Indus River
Date: 03 April 2019
Tags: Defence & Security
Indian Army has successfully built longest suspension bridge over the Indus River in the Leh-Ladakh region. It has been named 'Matiri Bridge', symbolising excellent civil-military relations existing in the Leh-Ladakh region. The bridge was inaugurated by war veterans who were part of 1947-48, 1962, 1971 and 1999 wars in Jammu and Kashmir.
Matiri Bridge
It is suspension Bridge constructed over Indus River by combat engineers of Sahas aur Yogyata regiment of Indian Army's Fire & Fury Corps.

It is 260-feet long, making it longest Suspension Bridge over Indus River. It has been built in a record time of 40 days.

It is shortest time taken by Indian Army built to build any suspension bridge of this length.

Locals from nearby villages of Choglamsar, Stok and Chuchot also had helped Indian Army in the construction of the bridge.