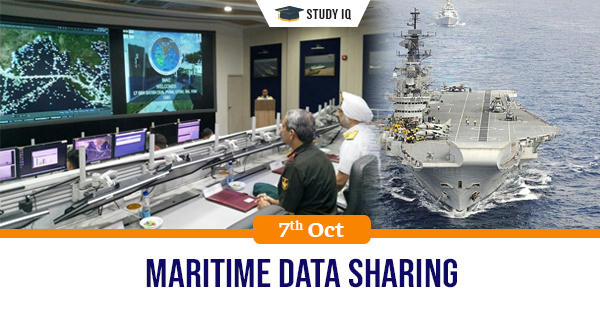 Maritime data sharing
Date: 07 October 2019
Tags: Tackling Security Threats
Issue
The Information Fusion Centre - Indian Ocean Region (IFC-IOR) set up last year has started functioning as an information sharing hub of maritime data and security situations.
Background
The IFC-IOR was inaugurated in December 2018 within the premises of the Navy's Information Management and Analysis Centre (IMAC) in Gurugram.The IMAC is the single point centre linking all the coastal radar chains to generate a seamless real-time picture of the nearly 7,500-km coastline.
Details
The major centres with which regular exchange of maritime security information is being undertaken include Virtual Regional Maritime Traffic Centre (VRMTC), Maritime Security Centre - Horn of Africa(MSCHOA), Regional Cooperation Agreement on Combating Piracy and Armed Robbery (ReCAAP), Information Fusion Centre-Singapore (IFC-SG), and International Maritime Bureau - Piracy Reporting Centre (IMB PRC).

Several Indian Ocean littoral states have joined the coastal radar chain network. These include Maldives, Mauritius, Sri Lanka and Seychelles. Bangladesh is set to join the network and talks are on with Thailand as well.

The centre will host liaison officers from partner countries and the infrastructure to house them will be set up.

The exchange of information will be undertaken by virtual means, using telephone calls, faxes, emails and video conferencing over Internet.
Maritime security
Maritime Security is a concept related to the sea is often associated with four domains:
National security: The traditional use of naval military power to defend commercial shipping lanes and the national territory.

Marine environment: Concerning environmental and safety regulation regarding marine pollution and health protection.

Economic development: Includes trade by sea, the exploitation of oil and other non-living resources, as well as fisheries.

Human Security: The absence of security (insecurity) of individuals, people in communities, or citizens of states.
Importance of Maritime security
Protecting economic resources of a country from foreign intrusion such as fishing, mining etc.

Protecting coastal borders of the country from threats suuch as terrorists, illegal migrants, smugglers.

Tracking naval and commercial ships and handling their security.
Protecting trade routes from threats such as piracy, kidnapping etc.