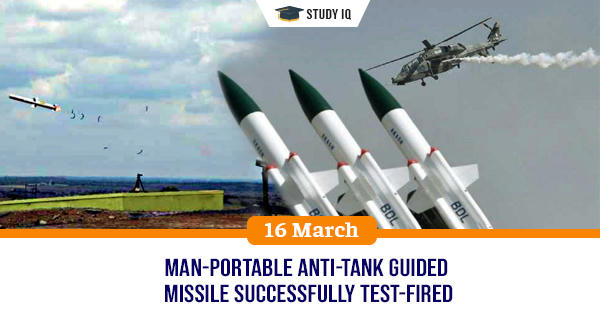 Man-Portable Anti-Tank Guided Missile successfully test-fired
Date: 16 March 2019
Tags: Miscellaneous
Defence Research and Development Organisation (DRDO) successfully test fired Man-Portable Anti-Tank Guided Missile (MPATGM) at Pokharan range, Rajasthan. This was overall 4th development trial of MP-ATGM which is being developed for infantry troops of Indian Army against enemy tank regiment. MP-ATGM are typically unguided weapons and are meant to destroy armoured vehicles, low-flying aircraft (especially helicopters), and field fortifications located at low ranges.
About Test
The recent two test trails of MPATGM were conducted to test missile's strike range capability including maximum strike range. Both rounds of tests met all the mission objectives. In both missions, the missile hit designated targets precisely at different ranges.
Man-Portable Anti-Tank Guided Missile (MPATGM)
It is 3rd-generation anti-tank guided missile (ATGM) indigenously developed by DRDO in association with Hyderabad based VEM Technologies Ltd.

It incorporates many advanced features such as image infrared radar (IIR) seeker with integrated avionics designed and developed by Research Centre Imarat (RCI).

Is fitted with high-explosive anti-tank (HEAT) warhead. It has maximum engagement range of about 2.5 kilometres, with top attack capability.

To maintain man portability, it weighs around 14.5 kg. It can be fired from shoulder and can be used during day and night.

It has minimum gravity offset and lateral centre. It is effective against both moving and stationary targets.

It is best in its class in the world. It is yet to be formally named. It will be deployed in Indian Army's infantry and parachute battalions.
Significance
MPATGM is critical for Indian Army as it has a requirement for more than 50,000 of these anti-tank missiles.

It will replace 2nd generation French origin anti-tank guided missile Milan and Soviet semi-automatic wire-guided missile Konkur, which are in service.

It will give fillip of indigenization of defence production under Make in India and reduce imports.