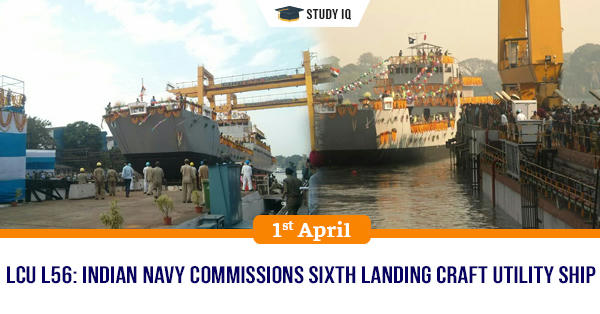 LCU L56: Indian Navy commissions sixth Landing Craft Utility ship
Date: 01 April 2019
Tags: Defence & Security
Indian Navy inducted sixth ship of Landing Craft Utility (LCU) Mk-IV class dubbed as IN LCU L56. It will enhance Indian Navy's amphibious operations capability including transport of troops, tanks and equipment.
Indian Navy has ordered total eight LCU Mark-IV vessels built under LCU Mk-IV project. The remaining two LCU ships of project are in advanced stage of construction and are scheduled to be inducted into Indian Navy by end of 2019.
LCU L56 Mk-IV
It is an amphibious ship with displacement of 830 Tons and can sail through sea at speed of 15kt.

It has been designed and built indigenously by Kolkata based Garden Reach Shipbuilders and Engineers (GRSE) under LCU Mk-IV project.

It can carry 160 troops and transporting 145 tons of military equipment. It will be based at Andaman and Nicobar Command of Indian Navy.

It is fitted with various advanced systems such as the Integrated Bridge System (IBS) and Integrated Platform Management System (IPMS).

It is also fitted with indigenous CRN 91 Gun with Stabilised Optronic Pedestal. It will provide ship offensive capability for undertaking patrolling.
Applications
Its primary role is of transportation and deployment of Main Battle Tanks (MTBs), armoured vehicles, troops and equipment from ship to shore.

It will be also used for multirole activities like beaching operations, search and rescue, disaster relief operations, supply and replenishment and evacuation from distant islands.

Induction of LCU ships will contribute to India's maritime security needs and help to accomplish its quest for self-reliance in shipbuilding under Make in India initiative.