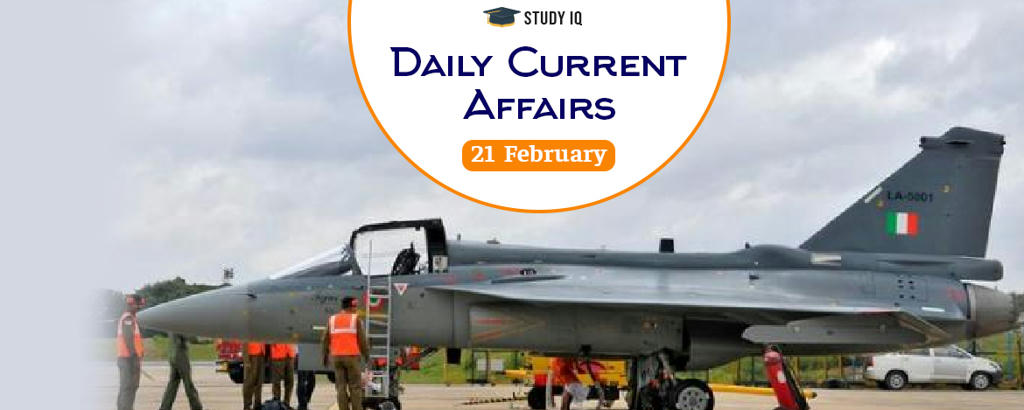 LCA Tejas receives final operational clearance
Date: 21 February 2019
Tags: Miscellaneous
India's first self-made fighter jet Light Combat Aircraft Tejas or LCA Tejas has received final operational clearance (FOC) for induction into Indian Air Force (IAF) as fully-weaponised fighter jet. FOC certificate was handed over by country's military aviation regulator CEMILAC to Chief of Air Staff Air Marshal Birender Singh Dhanoa at Aero India 2019 - India's biennial air show in Bengaluru.
Significance of FOC
It is a major milestone for the LCA (Tejas) to get the final operational clearance. It certifies that LCA Tejas is "ready for battle."

FOC aircraft of LCA Tejas has several additional capabilities compared to initial operational clearance (IOC) aircraft. The primary one is being more advanced missile capability with significantly enhanced range.

Some more advanced capabilities of FOC LCA Tejas aircraft Beyond Visual Range Missile capabilities, Air-to-Air Refuelling, Air-to-Ground FOC earmarked advanced weapons and delivery system, and general flight envelope expansion.
Light Combat Aircraft Tejas
It is world's smallest and lightest supersonic single-seat multi-role jet fighter. It is powered by single engine and uses fourth generation technologies.

It was co-developed by Aeronautical Development Agency (ADA) in cooperation with Hindustan Aeronautics Limited (HAL). It will replace India's ageing MiG-21 fighter aircrafts.

It is made entirely of composite structures and has tailless and compound delta wing design. It is equipped with quadruplex digital fly-by-wire flight control system to ease handling by pilot.

It incorporates advanced glass cockpit that comprises all round dialed electro-mechanical instruments.

It is fitted with the coherent pulse-Doppler Multi Mode Radar. It also has satellite-aided Inertial Navigation System and digital computer-based attack system and autopilot mode.

It has numerous stealth features. It has limited operational reach of little over 400-km, reducing its capability mainly for close air-to ground operations.

It can fire air to air missiles, carry bombs and precision guided ammunition. Its different kinds of weaponry including R-73 air-to-air missile, indigenous Astra missile, bomb dropping (including laser guided) etc.

IAF's squadron The Flying Daggers (Squadron No 45) is dedicated for LCA Tejas and has formally commenced its operations from Sulur Air Force Station in Tamil Nadu from June 2018.