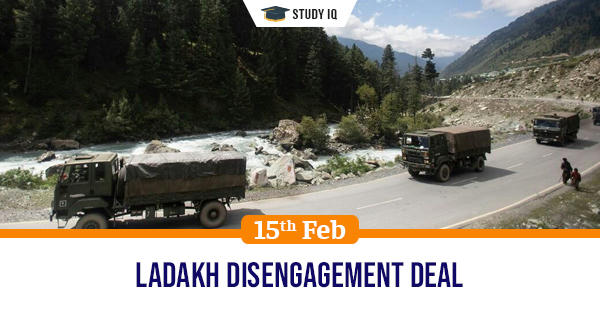 Ladakh disengagement deal
Date: 15 February 2021
Tags: Miscellaneous
Issue
Indian and Chinese military have reached a consensus on disengagement in northern shores of Pangong Tso in Ladakh.
Background
Indian and Chinese troops have been involved in a standoff in Ladakh since the past ten months.
Details
As of now, the disengagement process seems restricted to the north and south banks of Pangong Tso.

The process has started with the pulling back of certain columns of tanks from the south bank region by both sides.

At the moment, there is no pullback of troops from the friction points and the heights they are positioned on. That will happen in a phased and verified manner.

China will pull its troops on the north bank towards the east of Finger 8. Similarly, India will also position its forces at its permanent base at the Dhan Singh Thapa post near Finger 3.

Both sides have also agreed that the area between Finger 3 and Finger 8 will become a no-patrolling zone temporarily, till both sides reach an agreement to restore patrolling.

All the construction done by both sides on the north and south banks of the lake since April 2020 will be removed.
Strategic importance
It is in the south bank of the lake that Indian forces in an action in late August had gained strategic advantage by occupying certain peaks

It is one of the areas where the Chinese troops had come around 8 km deep west of India's perception of the Line of Actual Control.

Indian troops had positioned themselves on heights of Magar Hill, Mukhpari, Gurung Hill, Rezang La, and Rechin La, which were unoccupied by either side earlier.

The Chinese side had been worrying as these positions allowed India to not only dominate Spanggur Gap, which is a valley that can be used to launch an offensive, as China had done in 1962. It also allows India a direct view of China's Moldo Garrison.

After this action India had also re-positioned its troops on the north bank to occupy heights overlooking Chinese positions on the north bank as well.
Hurdles for permanent solution
Neither side had been willing to take the first step to reduce their troop or military strength, as it does not trust the other side.