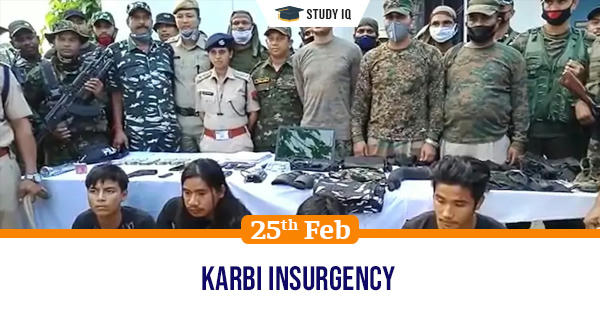 Karbi insurgency
Date: 25 February 2021
Tags: Miscellaneous
Issue
Militants belonging to five groups of Karbi Anglong district ceremonially laid down arms in Assam.
Background
The surrendered militants comprised cadres from five outfits — Karbi People's Liberation Tiger (KPLT), People's Democratic Council of Karbi Longri (PDCK), Karbi Longri NC Hills Liberation Front (KLNLF), Kuki Liberation Front (KLF), and United People's Liberation Army (UPLA).
Details
Karbi insurgency has a long history in Assam. They have been involved in killings, ethnic violence, abductions, and taxation since the late 1980s.

These outfits originated from a core demand of forming a separate state. Today, the Karbi Anglong Autonomous Council (KAAC) is an autonomous district council, protected under the Sixth Schedule of the Indian Constitution.
History
The Karbi National Volunteers (KNV) and Karbi People's Force (KPF) came together to form the United People's Democratic Solidarity (UPDS) in late 1990s.

In November 2011, UPDS gave up arms and signed a tripartite memorandum of settlement with the Centre and the government of Assam, settling for enhanced autonomy and special packages for the KAAC.
Significance of surrender
This means that all insurgent outfits of Karbi Anglong district have now been brought into the mainstream.

It also means a decline in influence of Naga militant outfits in Assam. With this surrender a huge number of weapons have come overground.

The developments come a year after a peace and development agreement was signed with multiple Bodo militant outfits.
Karbi tribe
The Karbis were mentioned as the Mikir in the Constitution Order of the Government of India and Assam till 1976.

The Karbis linguistically belong to the Tibeto-Burman group. The Karbis, along with other similar tribes others, entered Assam from Central Asia.

Most of the Karbis still practices Animism with their cultural and traditional influences. There are also Karbi Christians.

The Karbis celebrate many festivals. Among them, Hacha-Kekan, Chojun, Rongker, Peng Karkli, Thoi Asor Rit Asor, and Botor Kekur are some such festivals.

Botor Kekur is celebrated to request God to grace the earth with rain so that the crops could be sown.