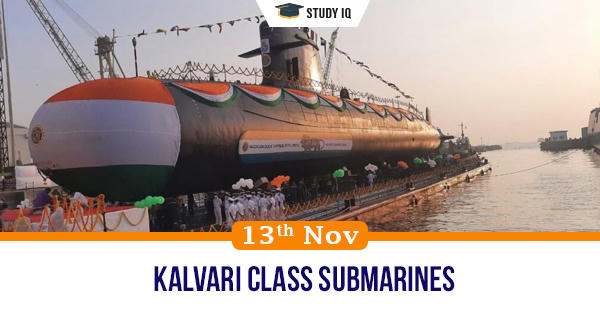 Kalvari class submarines
Date: 13 November 2020
Tags: Miscellaneous
Issue
Indian Navy's fifth Kalvari-class Diesel Electric attack submarine INS Vagir was launched at Mazgaon Dock in Mumbai.
Background
These stealthy class of submarines have been built under Project 75 and whose design is based on the Scorpene class of the submarines.
Details
Indian Naval Ship (INS) Vagir is the fifth among the six Kalvari-class submarines being constructed by the public sector shipbuilder Mazgaon Dock Ltd (MDL) in Mumbai.

The other vessels in the class are INS Kalvari, INS Khanderi, INS Karanj, INS Vela, and INS Vagsheer. Of these Kalvari and Khanderi have been commissioned in 2017 and 2019, Vela and Karanj and undergoing sea trials, Vagir has now been launched and Vagsheer is under construction.

The submarines in the current Kalvari-class take their names from erstwhile decommissioned classes of submarines named Kalvari.

The now-decommissioned Kalvari and Vela classes were one of the earliest of the submarines in post independence Indian Navy, which belonged to Soviet origin Foxtrot class of vessels.

This class of submarines have Diesel Electric transmission systems and these are primarily attack submarines or 'hunter-killer' type which means they are designed to target and sink adversary naval vessels.

The Kalvari-class submarines have capability of operating in a wide range of Naval combat including anti-warship and anti-submarine operations, intelligence gathering and surveillance, and naval mine laying.

The modern variants of the Scorpene class of submarines have what is called the Air Independent Propulsion (AIP) which enables non-nuclear submarines to operate for a long time without access to surface oxygen.
Project 75
Project 75 India (P75I) envisages the construction of six conventional submarines with better sensors and weapons and the Air Independent Propulsion System (AIP).

The P75I project is part of a 30-year submarine building plan that ends in 2030. As part of this plan, India was to build 24 submarines — 18 conventional submarines and six nuclear-powered submarines (SSNs).