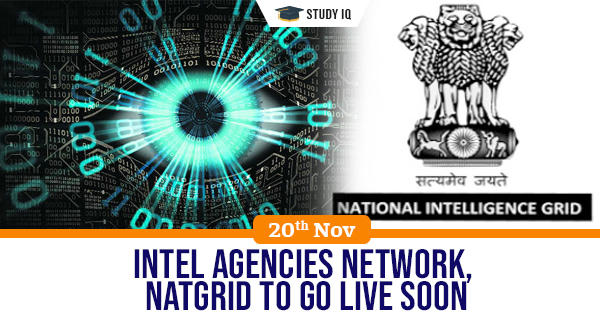 Intel agencies network, NATGRID to go live soon
Date: 20 November 2019
Tags: Tackling Security Threats
Issue
The ambitious National Intelligence Grid (NATGRID) project will be operational by December 31, 2020, according to the officials.
Background
The NATGRID project is an online database for collating scattered pieces of information and putting them together on one platform.
Details
The NATGRID will enable multiple security and intelligence agencies to access a database related to immigration entry and exit, banking and telephone details, among others, from a common platform.

At least 10 Central government agencies, such as the Intelligence Bureau, Research and Analysis Wing and others will have access to the data on a secured platform.

The NATGRID is exempted from the Right to Information Act, 2005 under sub-section (2) of Section 24.

The NATGRID links intelligence and investigation agencies. The 10 user agencies will be linked independently with certain databases which will be procured from 21 providing organisations including telecom, tax records, bank, immigration etc. to generate intelligence inputs.

The NATGRID is essentially a tool that enables security agencies to locate and obtain relevant information on terror suspects from pooled data of various organisations and services in the country.

It will help identify, capture and prosecute terrorists and help preempt terrorist plots.

In the first phase, 10 user agencies and 21 service providers will be connected, while in later phases about 950 additional organisations will be connected. In subsequent years, over 1,000 additional organisations will be connected.