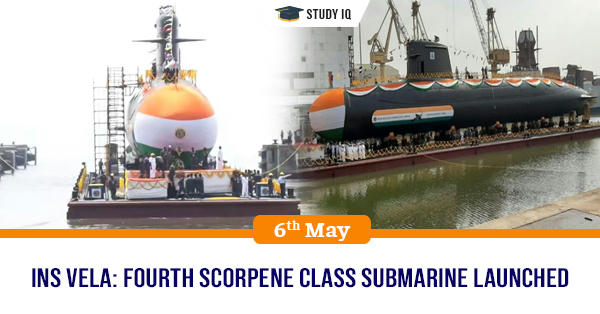 INS Vela: Fourth Scorpene class Submarine launched
Date: 06 May 2019
Tags: Defence & Security
The Indian Navy's fourth stealth Scorpene class Submarine INS Vela of Project 75 was launched at Kanhoji Angre Wet Basin of Mazagon Dock Limited (MDL) in Mumbai, Maharashtra. Post this launch, this submarine will go for sea trials and later will be inducted into service of Indian Navy.
INS Vela
It is diesel-electric attack submarine of Kalvari-class. It is named 'Vela' after earlier submarine, which was lead submarine, of erstwhile Vela class (second batch of Foxtrot class submarines acquired by India from erstwhile USSR in 1970s).

Its state-of-the-art features include superior stealth and ability to launch crippling attack on enemy using precision guided weapon.

It can attack using torpedoes, as well as tube-launched anti-ship missiles, whilst on surface or underwater.

It can operate in all theatres, including the tropics. Its stealth features give it invulnerability and makes difficult for enemy to detect it.

It can undertake multifarious types of missions such as anti-submarine warfare, anti-surface warfare, intelligence gathering, area surveillance, mine laying etc.
Project 75
Under it, MDL Mumbai is manufacturing six Scorpene submarines under technology transfer from Naval Group of France ($3.75 billion contract signed in 2005).These are next generation diesel submarines built for Indian Navy. Entire project and induction of all submarines is expected to be completed by 2020. These submarines are being built using modular approach in which different sections are built separately and later assembled on pontoon. They are fitted with indigenously developed Air Independent Propulsion System (AIP) technology by DRDO for extended endurance.
Progress of project
INS Kalvari was the first modern conventional submarine under this project to be inducted by Indian Navy in December 2017. The remaining submarines in series of this project are in advanced stages of manufacturing, assembling and sea trials. The third in Scorpene series Karanj was launched in January 2019 and is in advanced stage of trials and may be ready for induction by 2019 end. The last two submarines INS Vagir (fifth in series) and INS Vagsheer (sixth in series) are in advanced stages of manufacturing on the assembly line.