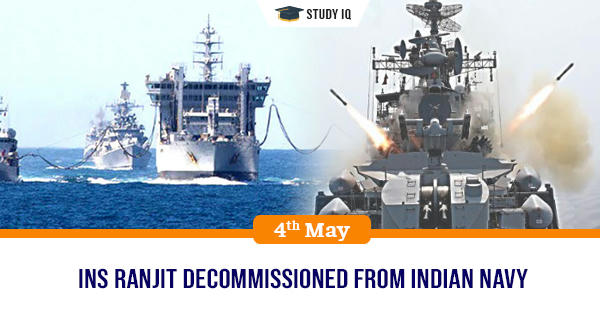 INS Ranjit decommissioned from Indian Navy
Date: 04 May 2019
Tags: Defence & Security
Indian Navy's front-line missile destroyer INS Ranjit was decommissioned at naval dockyard at Visakhapatnam, Andhra Pradesh, after serving for 36 years.
INS Ranjit
It was commissioned in September 1983. It was purchased from Union of Soviet Socialist Republics (USSR). It was third of five Kashin-class destroyers.

Its motto was 'Sada Rane Jayate' or 'Ever Victorious in Battle'. It was awarded with 'Unit Citation' in recognition of her service in 2003-04 and 2009-10.

In its 36 years of service, the ship has served both western and eastern seaboard and has been the flagship of both the western and eastern fleets.

It had undertaken some of key operations such as Indian Peace Keeping Force (IPKF) operations in Sri Lanka and Operation Talwar during Kargil conflict.

In 2003, it was deployed off Mozambique coast to provide security cover to African Union (AU) Summit.

It was also actively deployed as part of relief operations post 2004 Tsunami and cyclone Hud-Hud in 2014.