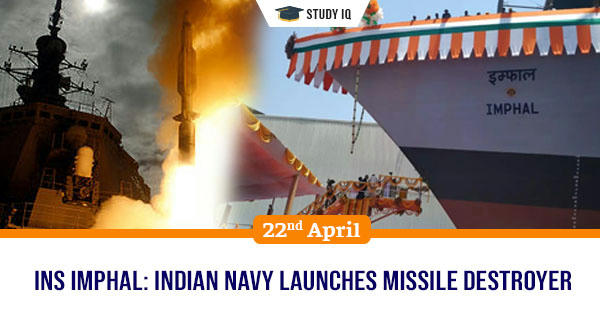 INS Imphal: Indian Navy launches missile destroyer
Date: 22 April 2019
Tags: Defence & Security
Indian Navy has launched advanced stealth guided missile destroyer INS Imphal in water at Mazagon Docks in Mumbai, Maharashtra. It is third in series of four stealth guided missile destroyer of Visakhapatnam class built indigenously under Project-15B. It is the first warship to be christened after city in the north-east. It is expected to be commissioned in 2023.
INS Imphal
It was built indigenously by government-run Mazgaon Dock Shipbuilders Ltd. It has been named after Imphal, capital city of Manipur.

It has displacement of 7,300 tonne with maximum speed of over 30 knots. It has been fitted with multi-mission radar for surveillance purpose along with medium range air and surface surveillance radar and other advanced electronic warfare and decoys.

It is equipped with surface-to-air missiles, surface-to-surface missiles and anti-submarine rocket launchers.

It is also capable of carrying two multi role anti-submarine warfare helicopters. It is fitted also with Barak-8 long-range missiles.
Project 15 Bravo (Project 15B)
It was sanctioned by Union Government in 2011. Under it four Visakhapatnam class stealth guided missile destroyers are being indigenously developed and built at Mazagon Dock Limited (MDL), Mumabi.

This class of destroyers are to be largest destroyers to be operated by the Indian Navy. These destroyers are improved version of Kolkata-class (Project 15A) destroyers and have enhanced stealth features.

The first ship of this project, INS Visakhapatnam was launched in April 2015 and is expected to be commissioned in 2021. Second ship INS Mormugao was launched in September 2016 and will be commissioned in 2022. Fourth ship INS Porbandar is under construction and will be commissioned in 2024.

Missile destroyers of this class are modern warships spanning 163-metre in length and 17.4-metre at beam and have displacement of 7,300-tonne.

These ships are propelled by four gas turbines to achieve speed in excess of 30 knots. They can also operate two multi-role helicopters each,

They also incorporate new design concepts for improved survivability, sea keeping, stealth and manoeuvrability.

They have enhanced stealth due to unique shape of hull and use of radar transparent deck fitting, which make these ships difficult to detect.

These ships are packed with array of state-of-the-art weapons and sensors, including multi-functional surveillance radars, vertically launched missile system for long-distance engagement of shore, sea-based and air targets.
Naming Tradition of warships by Indian Navy
As per ongoing naming tradition of indigenously-constructed destroyers (which are second only to aircraft carriers in size and combat power), after a state capital or big city e.g. INS Mumbai, INS Delhi, INS Mysore, INS Kolkata, INS Kochi and INS Chennai. Similarly, slightly smaller frigates are named after mountain ranges, rivers or weapons like INS Sahaydri, INS Shivalik and INS Trishul. The smaller corvettes are named after smaller personal weapons like INS Kirpan and INS Khanjar.