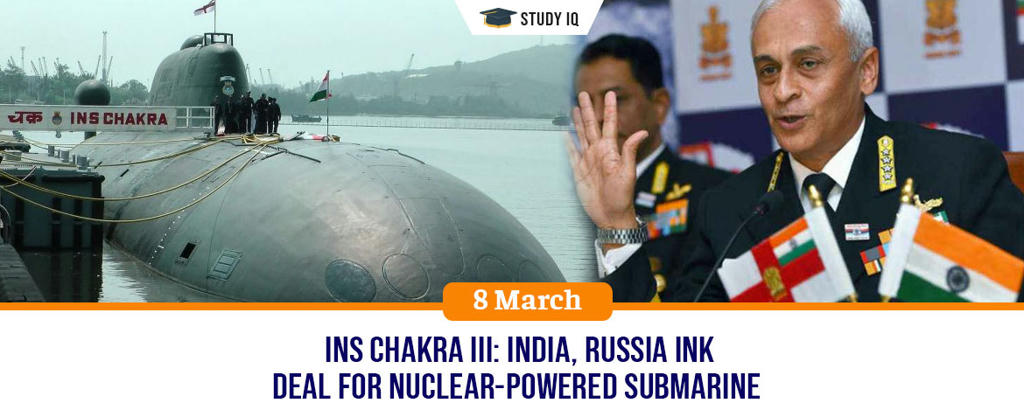 INS Chakra III: India, Russia ink deal for nuclear-powered submarine
Date: 08 March 2019
Tags: Defence & Security
India has signed $3 billion deal (inter-governmental agreement) with Russia for leasing of 8,000-tonne Akula class nuclear-powered attack submarine for Indian Navy for period of 10 years. Under this agreement, Russia will have to deliver this submarine, to be known as Chakra III, to Indian Navy by 2025.
Significance
The deal includes comprehensive package for refurbishment of nuclear submarine, its sustenance and spares support for 10 years as well as training and technical infrastructure for its operations.

Overall, India needs at least 18 conventional submarines, six SSNs and four SSBNs for effective deterrence in backdrop of China's attempts to expand its influence in and naval presence in Indian Ocean region.

Induction of INS Chakra III submarine will add some much-needed teeth to India's depleting fleet of just 14 conventional diesel-electric submarines (13 old, and new Scorpene INS Kalvari out of e six under construction at Mazagon Docks), SSN (INS Chakra) and a mini-SSBN or "baby boomer" (INS Arihant).

It will also serve as training platform for 6,000-tonne INS Arihant, which is to be followed by three more SSBNs being built at ship-building center at Vizag under secretive Rs 90,000 crore Advanced Technology Vessel (ATV) programme.
Note: INS Arihant is India's first indigenous nuclear-powered submarine with nuclear-tipped ballistic missiles (called SSBN in naval parlance). In November 2018, it had completed its first "first nuclear deterrence patrol".
Whether INS Chakra III will be used for nuclear triad?
Due to limitations under international treaties, nuclear-powered attack submarine (SSN) like INS Chakra is not equipped with long-range nuclear missiles. So it will not be part of India's nuclear triads.

Thus, it is not meant for "nuclear deterrent patrols" but can be used deadly as "hunter-killer" of enemy submarines and warships and is also equipped with land-attack conventional cruise missiles.

Moreover, it can also be deployed for ISR (intelligence, surveillance, and reconnaissance) missions due to its stealthy nature and capability to stay underwater for extended periods.
Other Submarines leased from Russia
India Navy already has taken two more submarines from Russia on lease. Chakra III will be the third Russian submarine to be leased to Indian Navy.

First Russian nuclear-powered submarine christened INS Chakra was taken in 1988 for three-year lease.

Second INS Chakra II was taken on lease in 2012 for period of 10 years. Its lease will expire in 2022 and India is looking at extending the lease.
Benefits of Nuclear-powered submarines
It can stay submerged for months at end as compared to conventional submarines which must surface or "snorkel" every few days to get oxygen to re-charge their diesel-electric batteries.