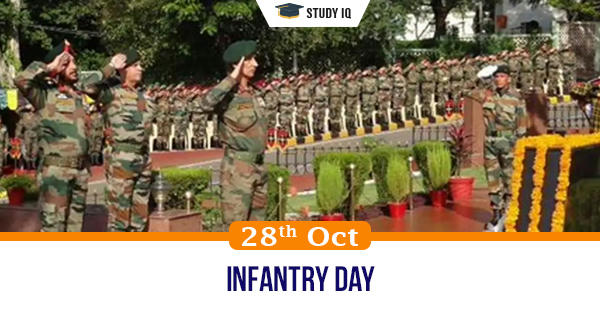 Infantry day
Date: 28 October 2020
Tags: Miscellaneous
Issue
Army establishments across the country are today marking 'Infantry Day' and paying homage to the thousands of infantry soldiers who have laid down their lives in the line of duty.
Details
It was on this day that first Indian infantry soldiers took part in an action to defend Indian territory from external aggression.

On October 26, 1947 the then Maharaja of Jammu and Kashmir, Hari Singh, signed the instrument of accession, making his state a part of Indian dominion, and thus paving the day for Indian troops to be deployed in the state to fight against Pakistani invaders.

Pakistan had poured in thousands of regular soldiers in the grab of tribals of North West Frontier Province (NWFP) into J&K with the aim of forcibly occupying the state and integrating it into Pakistan.

The initial resistance to the invaders was given by the state forces of J&K. On October 26, after the Maharaja signed the instrument of accession the way was paved for India to send in its troops and ward off the Pakistani invaders.

Seven Dakota aircraft were assembled at Palam airport on the morning of October 27 with each scheduled to do two sorties each to airlift the troops of 1 Sikh and their equipment.

The Dakotas took to air carrying first Indian infantry soldiers and a battery of artillery troops into J&K where they would make history by saving the Srinagar airfield from the Pakistani invaders.

Had 1 Sikh not been airlifted into Srinagar on time the airfield would have fallen into the hands of Pakistani invaders.

With the road link extremely tenuous, this would have meant that getting Indian troops into Srinagar would have been a time-consuming task and would have given ample opportunity to Pakistan to reinforce its invaders through air and thus occupying the Valley.