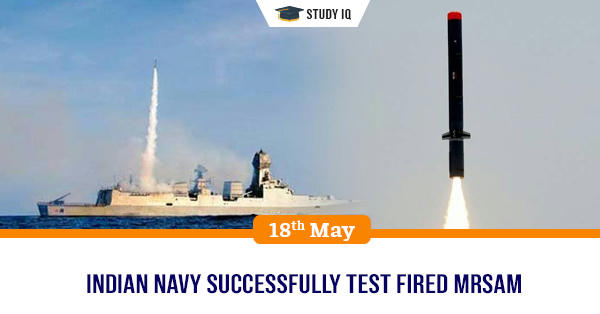 Indian Navy successfully test fired MRSAM
Date: 18 May 2019
Tags: Defence & Security
Indian Navy has successfully test-fired Medium Range Surface to Air Missile (MRSAM) from Indian naval ships (INS) Kochi and Chennai in western Seaboard. With this, Indian Navy has achieved significant milestone in enhancing its Anti Air Warfare Capability with maiden cooperative engagement firing of MRSAM. The test-firing of the missile was carried out jointly by Indian Navy, Defence Research and Development Organisation (DRDO) and Israel Aerospace Industries.
Significance of this test
With this Indian Navy has become a part of a select group of Navies across the world that have niche AirWarfare Capability with cooperative engagement firing. This capability significantly enhances Indian Navy's combat effectiveness thereby providing operational edge over potential adversaries.
About MRSAM
It has been jointly developed by Defence Research and Development Laboratory (DRDL) Hyderabad, a DRDO Lab in collaboration with Israel Aerospace Industries.

It has been manufactured by Bharat Dynamics Limited, India. It has been fitted onboard Kolkata Class Destroyers. It will also be fitted on all future major warships of the Indian Navy.

It has thrust vector control and dual pulse rocket motor. It has maximum speed of Mach 2 with maximum operational range of 100 km.

It incorporates state-of-the-art phased array multi-mission radar, flexible command and control system, two-way data link, enabling users to simultaneously engage multiple targets day and night and in all weather conditions.

It has high degrees of maneuverability at target interception range. It provides broad aerial and point defence against wide range of threats to marine arena from the air, sea or land.

It is also designed to defend against variety of short-to-long-range airborne threats, including fixed-wing aircraft, helicopters, drones and projectiles.