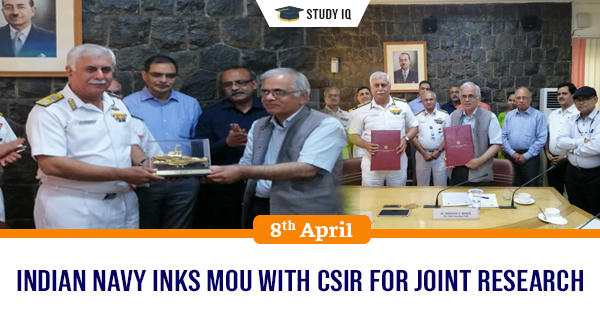 Indian Navy inks MoU with CSIR for joint research
Date: 08 April 2019
Tags: Miscellaneous
Indian Navy has singed Memorandum of Understanding (MoU) with Council of Scientific and Industrial Research (CSIR) to undertake joint research and development of advanced technologies for the Indian Navy. The MoU provides formal framework for interaction between Indian Navy and CSIR and its various labs and Indian industry.
Under this MoU
Joint R&D activities will be undertaken in diverse fields of Mechanical, Electronics, Communication, Computer Science, Propulsion systems, Metallurgy and Nanotechnology.

Some of immediate projects will include development of alternative desalination technologies, residual life assessment studies of gas turbine generator blades to improve reliability and installation of wireless MEMS based sensors for remote operation.
Significance
The collaboration will allow the Indian Navy to leapfrog towards latest technologies. It will enable to jointly engage with CSIR under 'Make in India' and other innovative programmes of the Union Government. It will serve as foundation for exchange of ideas and development of new technologies in the future.
Council of Scientific & Industrial Research (CSIR)
It is India's premier research and development (R&D) organisation. It was established in 1942.

It operates as autonomous body registered under Registration of Societies Act of 1860. It is headquartered in New Delhi.

It is mainly funded by Ministry of Science and Technology, Government of India. Prime Minister is ex-officio chairman of CSIR.

It runs chain of 38 laboratories/institutes, 39 outreach centers, 3 Innovation Centers and 5 units throughout the nation,

It has been ranked 9th best scientific institution in the world amongst 1207 government institutions, with overall global ranking of 75 in world, covering 5250 institutions.