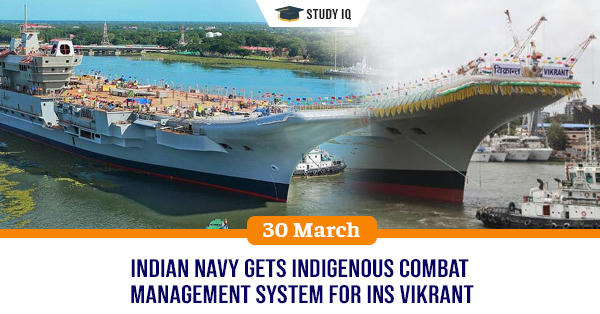 Indian Navy gets indigenous combat management system for INS Vikrant
Date: 30 March 2019
Tags: Defence & Security
Indian Navy has received Combat Management System (CMS) for first indigenous aircraft carrier, INS Vikrant. It has been privately co-developed by Tata Power Strategic Engineering Division and Electronics System Engineering Establishment and MARS of Russia. It is the first CMS to be developed by private industry for Indian Navy and for indigenous aircraft carrier.
Combat Management System (CMS)
It is computer system that integrates and connects aircraft carrier's sensors, weapons and delivery systems, data links, instruction lines to staff performing combat task. It synergises all its capabilities under one command, thus making tasks of sensor control, sensor data fusion, threat evaluation and weapons control all the more effective and induce more sync.
Significance
It is major landmark on Indian Navy's thrust towards Government's policy of 'Make in India' to encourage indigenous development and promoting private industry participation. Prior accepting CMS, its system software and hardware were subjected to rigorous acceptance trials and has successfully cleared all acceptance tests, endurance and full load trials.
INS Vikrant
It is India's first indigenously-built largest aircraft carrier. It is also called IAC-1. It is in its third and final phase of construction at Kochi shipyard and the sea trials are expected to begin by mid-2020.

It will employ Short Take-Off But Arrested Recovery (STOBAR) mechanism with ski-jump and arrestor cables to launch and recover aircraft.

It can operate 20 fighter jets and 10 other supportive aircraft. MiG-29K fighter aircrafts which are currently in service with Indian Navy will operate from its deck.

Indian navy is also keen on second indigenous aircraft carrier IAC-2 or INS Vishal. It will be much bigger, indigenous, super carrier and it is currently in design phase and is expected to be operational by 2030.