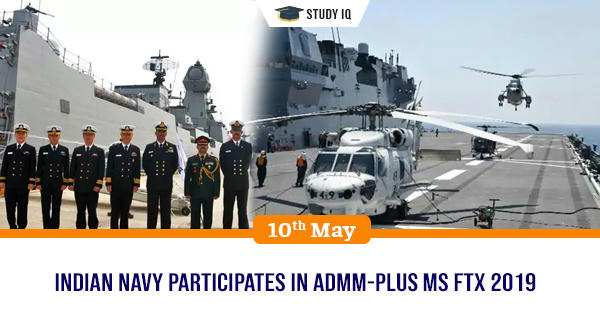 Indian Navy participates in ADMM-PLUS MS FTX 2019
Date: 10 May 2019
Tags: Defence & Security
Indian Navy Ships- INS Kolkata and INS Shakti participated in ADMM-Plus Maritime Security Field Training Exercise (ADMM-PLUS MS FTX 2019). It was held in two phases viz. Phase 1- from 3 May 19 off South Korea coast and Phase II- from 9 to 12 May 2019 in South China Sea.
ADMM-PLUS MS FTX
This edition of this multilateral naval exercise involved 19 ships and 10 aircraft with about 700 personnel from 18 ADMM-Plus countries. They conducted series of professional exchanges ashore, as well as maritime security drills in waters off South Korea and Singapore.
Group Sail
Indian Navy along with navies of US, Philippines and Japan conducted Group Sail in disputed South China Sea. It was their first joint naval exercise. In this group sail, naval ships of these four undertook various exercises en route which included formation manoeuvring, cross-deck flying, under way replenishment runs and exchange of sea riders.
ASEAN Defense Minister's Meeting-Plus (ADMM-Plus)
It is only official framework of Defense Minister's meetings in Asia-Pacific Region. It was established in 2010.

It is platform for ASEAN and its eight Dialogue Partners to strengthen security and defence cooperation for peace, stability, and development in the region.

Members (10+8):

10 ASEAN countries as well as Australia, New Zealand, India, China, United States, Russia, Japan and South Korea (Republic of Korea).