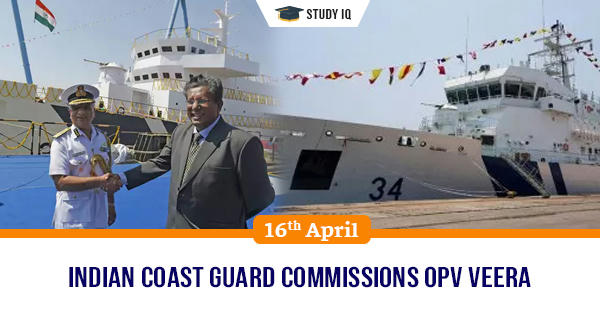 Indian Coast Guard commissions OPV Veera
Date: 16 April 2019
Tags: Defence & Security
Indian Coast Guard (IGC) commissioned new Offshore Patrol Vessel (OPV) Veera at Visakhapatnam, Andhra Pradesh. It is third in the series of the new generation OPV. It will help IGC to monitor maritime boundaries more effectively and add to its maritime strength.
OPV Veera
It has been built by Larsen & Toubro (L&T) at its shipbuilding facility at Kattupalli in Chennai.

It is 97-meter long and 15-meter wide. It has 3.6 m draft and range of 5,000 nautical miles. It can attain top speed of 26 knots.

It is armed with two 12.7 mm heavy machine guns (HMGs) and 30 mm Naval gun with fire control system.

It is also equipped with integrated bridge system (IBS), integrated platform management system (IPMS) and high power external fire-fighting system.

It can carry one twin engine helicopter and four high-speed boats, including two inflatable boats for search and rescue, boarding operation, law enforcement and maritime patrol.