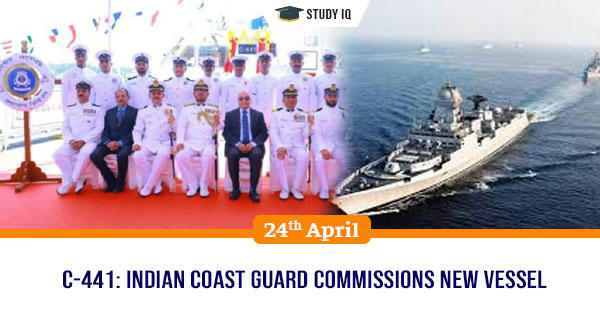 C-441: Indian Coast Guard commissions new vessel
Date: 24 April 2019
Tags: Defence & Security
Indian Coast Guard has commissioned new interceptor vessel IGCS C-441 at Vizhinjam harbour, Thiruvananthapuram. It is seventh interceptor vessel amongst the series designed and built indigenously by L & T Surat.
IGCS C-441
It has overall length of 27.8 metres, displacement 106 tonnes and maximum speed of 45 knots (83 km/hr),

It is equipped with twin diesel engines, twin water jet propulsion. It has endurance of 500 NM at 25 knots of speed. It also has infrared surveillance.

It is fitted with state-of-the-art communication, navigational equipment and with light, medium and heavy automatic machine gun onboard as the main armament.

Operation Capability:

It is capable of operating in shallow waters as well as in deep seas. It can undertake diverse tasks such as close coast surveillance, interdiction, search and rescue and helping boats and crafts in distress at sea.

Significance:

Its induction into the inventory of Indian Coast Guard in Southern Coast of Kerala is expected to enhance the security and safety of coastal area in this region and strengthen coastal security apparatus of the nation.