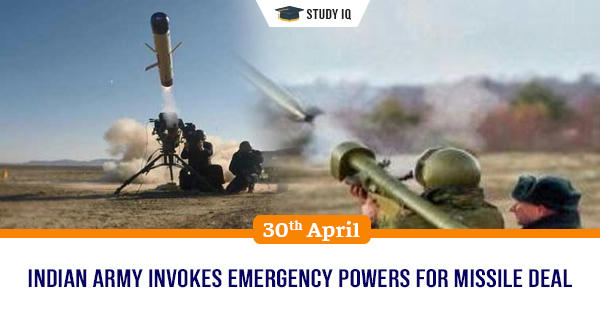 Indian Army invokes emergency powers for missile deal
Date: 30 April 2019
Tags: Policy
Indian Army is in process of procuring Spike-LR Anti-Tank Missiles from Israel and Igla-S Very Short Range Air Defence Systems (VSHORAD) from Russia. These missiles will be procured under set of new financial powers for emergency procurements sanctioned by Union Ministry of Defence in April 2019.
New Financial Powers for emergency procurements
Under the latest emergency financial powers, armed forces have been given free hand to procure equipment worth up to Rs. 300 crore on priority basis. It also allows procurement of entirely new systems that are not in use.
Man-portable air defence systems (MANPADS)
These weapon systems are surface-to-air missiles that can be fired by individual or small team of people against aircraft. They are often described as shoulder-fired anti-aircraft missiles. They are guided weapons and can destroy low-flying aircraft, especially helicopters.