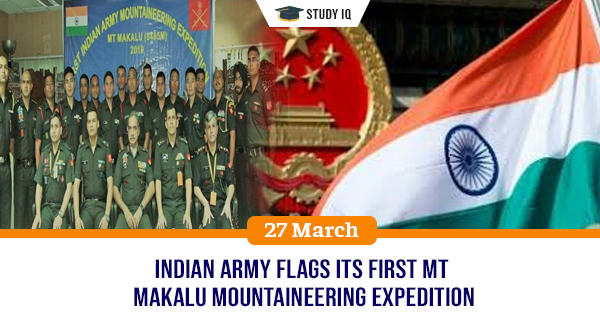 Indian Army flags its first Mt Makalu Mountaineering Expedition
Date: 27 March 2019
Tags: Defence & Security
Indian Army has flagged off its first Mountaineering Expedition to Mt Makalu (8485m) as part of its objective of summiting all challenging peaks above 8000M. This expedition comprises five Officers, two JCOs and eleven OR was flagged off by Director General Military Training. The team has trained for last six months as part of preparation to fulfill the daunting task. It will embark for t challenging mission from New Delhi and will set up six camps enroute to summit point on Mt Makalu.
Mt Makalu
It is the fifth highest mountain in the world at 8,485 metres.

It is located in Mahalangur Himalayas, southeast of Mount Everest, on the border between Nepal and Tibet, China.
It is an isolated peak whose shape is a four-sided pyramid It is notorious for its steep pitches and knife-edged ridges that are completely open.

It is considered amongst the most dangerous peaks and summiting it is considered extremely challenging due to harsh weather conditions and freezing temperatures.

It tests climbers for technical acumen, mental and physical courage and their determination to reach atop Mt Makalu.

Team of American climbers led by Riley Keegan were first to climb it in the spring of 1954.