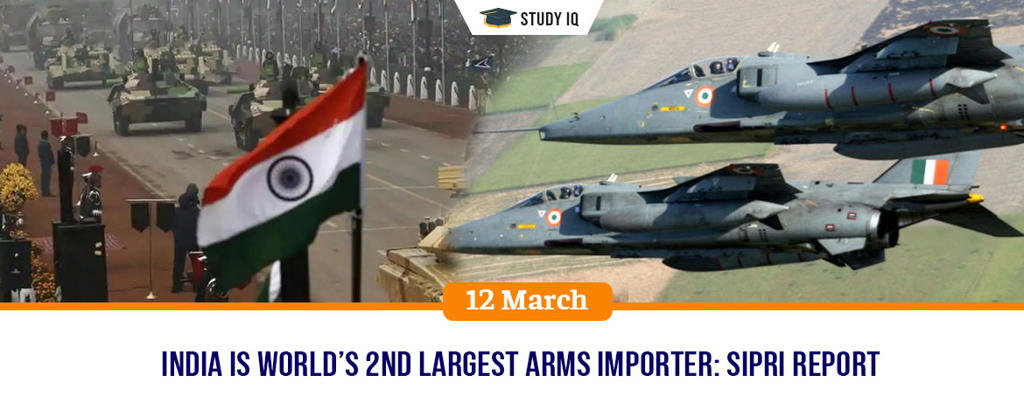 India is world's 2nd largest arms importer: SIPRI Report
Date: 12 March 2019
Tags: Defence & Security
According to latest report published by Stockholm International Peace Research Institute (SIPRI), India was world's second largest arms importer from 2014-18, accounting for 9.5% of global defence purchases. Prior to this period, India was world's largest arms importer. Now it has been replaced by Saudi Arabia, which accounted for 12% of total global arms imports during 2014-18 period.
Highlights of Report
Global Scenario:

The volume of international transfers of major arms in 2014-18 was 7.8% higher than in 2009-13 and 23% higher than in 2004-2008.

The flow of arms increased to Middle East between 2009-13 and 2014-18, while there was decrease in flows to all other regions

Five largest arms exporters in 2014-18:

United States, Russia, France, Germany and China together accounting for 75% of total volume of arms exports in 2014-18.

10 largest arms importers in 2014-18:

Saudi Arabia (12%), India (9.5%), Egypt (5.1%), Australia (4.6%), Algeria (4.4%), China (4.2%), UAE (3.7%), Iraq (3,7%), South Korea (3.1%) and Vietnam (2.9%).

China:

It has emerged as major arms exporter and has increased its share by 2.7% for 2014-18 compared to 2009-13. Its biggest customers are Pakistan and Bangladesh.

India:

Its arms imports decreased by 24% between 2009-13 and 2014-18, partly due to delays in deliveries of arms produced under licence from foreign suppliers, such as combat aircraft ordered from Russia in 2001 and submarines ordered from France in 2008, the report stated.

Russia accounted for 58% of Indian arms imports in 2014–18, compared with 76% in 2009-13. Israel, United States and France all increased their arms exports to India in 2014-18.

Russia will remain India's arms supplier and its share in Indian imports will sharply go up for next five-year period as India signed several big-ticket deals recently, and more are in the pipeline.

These include S-400 air defence systems, four stealth frigates, AK-203 assault rifles, a second nuclear attack submarine on lease, and deals for Kamov-226T utility helicopters, Mi-17 helicopters and short-range air defence systems.

Pakistan:

It stood at the 11th position accounting for 2.7% of all global arms imports.

Its biggest source was China, from which it purchased 70% of arms, followed by the US (8.9%) and Russia (6%).
Stockholm International Peace Research Institute (SIPRI)
It is international institute dedicated to research into conflict, armaments, arms control and disarmament.

It was established in 1966 and is based in Stockholm, Sweden.

It provides data, analysis and recommendations, based on open sources, to policymakers, researchers, media and the interested public.

It was ranked among top three non-US world-wide think tanks in 2014 Global Go To Think Tanks Report by University of Pennsylvania Lauder Institute