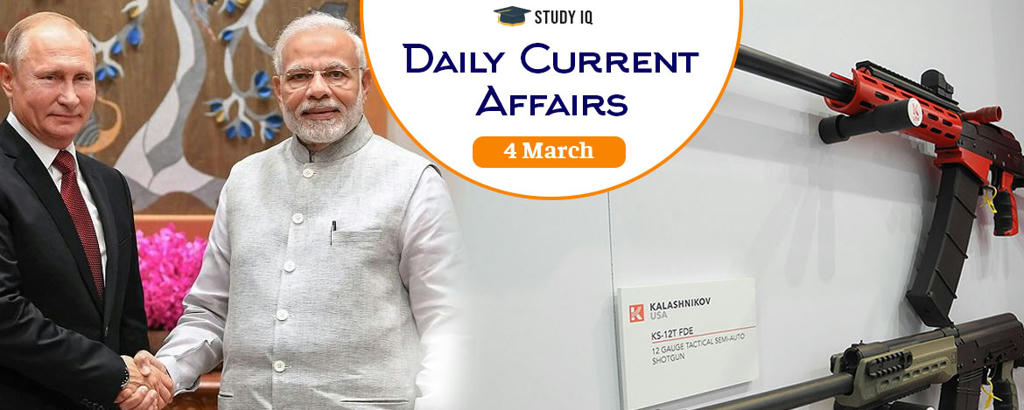 India-Russia JV to build Kalashnikov rifles
Date: 04 March 2019
Tags: Policy
Prime Minister Narendra Modi laid foundation stone of Indo-Russia Rifles Pvt Ltd, a manufacturing unit for AK-203 assault rifles in Korwa, near Amethi, Uttar Pradesh. It has been set up as per inter-governmental agreement (IGA) India and Russia to manufacture AK-203 in India.
Indo-Russia Rifles Pvt Ltd
This JV incorporates India's Ordnance Factory Board (OFB), which has 50.5% stake, Kalashnikov with 42% stake and Russia's state-owned export agency, Rosobornoexport, owning remaining 7.5% stake.

It will manufacture world famous Kalashnikov assault rifles of newest 200 series. It is estimated that around 750,000 AK-203 rifles are expected to roll off the production line in 2019.
Significance
It will be able to fulfil longstanding demand of Indian security agencies' requirement for small arms.

It will help India to reach full localisation of assault refile production through transfer of advance technology from Russia.

It will contribute to stronger defence potential of India and further advance its scientific and industrial basis of national economy.
AK-203
It is advanced version of AK-47 assault rifles. It has effective range of 400 metre and is considered 100% accurate. It is lighter and shorter than INSAS rifle.

It can fire 600 bullets in one minute (10 bullets in second), can be used in automatic and semi-automatic mode.

Its magazine can hold 30 bullets. Its 7.62 mm ammunition is NATO grade and therefore more powerful.

It can host underbarrel grenade launcher or bayonet. Its all versions can be equipped with quick-detachable tactical sound suppressors.

It never gets jammed (as seen in most cases of INSAS rifles) and can work under extreme climatic conditions. It is effective even in sand, soil and water.
Background
In October 2017, Indian Army kicked off acquisition of small arms (rifles, carbines and light machine guns) for its soldiers. It was decided to cut costs by equipping only frontline infantry soldiers with most modern assault rifles, with advanced optics and sighting systems. Under this proposal, AK-203, along with US-origin Sig Sauer assault rifle were selected for equipping only frontline infantry soldiers. The new rifles will replace the indigenous INSAS (INdian Small Arms System) rifles in the Army, Air Force and Navy.
Limitations of INSAS
It is longer and heavier (4.15kg without magazine & bayonet) and difficult to carry. It has effective range of 400 metre.

Its magazine is translucent (one can count the number of bullets left), can hold only 20 rounds and can break when falls on hard ground.

Besides, security agencies using it had faced several issues like gun jamming, rifle going into automatic mode when it was set for three-round bursts and oil falling on user's eyes during the combat

.