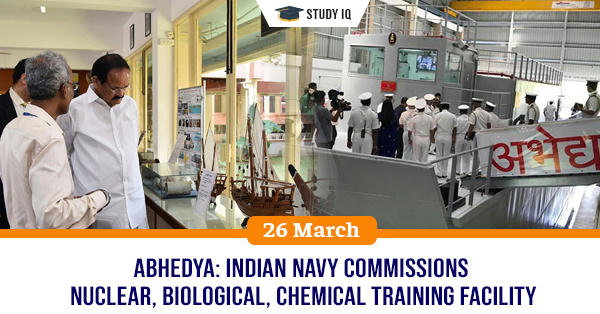 ABHEDYA: Indian Navy commissions Nuclear, Biological, Chemical Training Facility
Date: 26 March 2019
Tags: Defence & Security
Indian Navy has commissioned Nuclear, Biological, Chemical Training Facility (NBCTF) ABHEDYA at INS Shivaji in Lonavala, Maharashtra. This unique facility will assist Indian Navy in providing realistic simulation of Nuclear, Chemical and Biological (NBC) warfare to its personnel during their NBC damage control training, which till now was largely limited to theoretical training.
NBCTF ABHEDYA
It has been christened "Abhedya", a Sanskrit term which means impenetrable in English. It symbolises protective cover that is provided on naval ships which are fitted with nuclear, biological and chemical detection and protection systems.

This facility has been built by Goa Shipyard Limited. It will help train personnel of naval ships fitted with NBC detection and protection systems.

It will provide realistic training to naval personnel in detection, protection against and decontamination of NBC agents.

The steel structure of this simulator facility represents relevant NBC compartment of ship such as upper decks, citadels, cleansing stations, DCHQ, etc.

Its upper deck compartment is equipped with live agents along with NBC equipment such as SIRS, SICADS and other NBC detection and monitoring equipment.

It will train trainees in detecting, monitoring, surveying and decontaminating areas using actual NBC equipment, providing real time NBC scenarios.
INS Shivaji
It is premier Technical Training Establishment of Indian Navy that trains officers and sailors of marine engineering branch and equips them with professional skills and expertise. It is located in Lonavala, Maharashtra.

It was commissioned in February 1945 as HMIS Shivaji. It is located close to the Bhushi Dam. It is located on 876 acres of land.

It houses Naval College of Engineering which trains officers of the Indian Navy and Indian Coast Guard.

Indian Navy's Center for Marine Engineering Technology and Nuclear, Biological and Chemical Defence (NBCD) School are also based here.

It is celebrating its platinum jubilee year in 2019-20. The theme this celebration is "Propelling the Indian Navy since 1945".