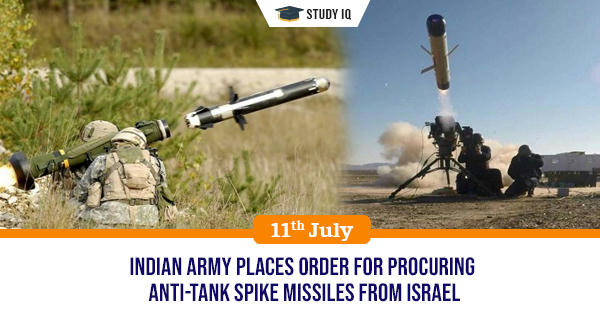 Indian Army places order for procuring anti-tank Spike missiles from Israel
Date: 11 July 2019
Tags: Defence & Security
Indian Army has placed order for procuring anti-tank Spike missiles from Israel under emergency purchases powers to meet operational preparedness. The deal was approved by Army in April 2019 after emergency purchase powers granted to armed forces after Pulwama terror attack (February 14, 2019), followed by Balakot airstrike.
Anti-tank Spike missile
It is a 3rd generation, man-portable, fire-and-forget, anti-tank guided missile. It is designed and developed by Israeli company Rafael Advanced Defense Systems. It can be fired from different platforms -vehicles, helicopters, ships and ground launchers. It can engage and destroy targets within line-of-sight of the launcher (fire-and-forget). Some of its variants are capable of making top attack profile through "fire, observe and update" guidance method.
Capability: It is known for its precision targeting with ability to pierce even bunkers. It can hits targets at a range of four kilometers and can be deployed in both mountains and plains. It can be deployed even along the Line of Control (LoC).
Special Financial Powers
Following the Pulwama terro attack ( 14 February 2019), Union Government had granted emergency powers to three services to procure weapons and military hardware to enhance their operational preparedness along border with Pakistan. Government also relaxed certain rules to cut delays in military purchase like allowing the three services to procure required weapons and equipment from a single vendor.