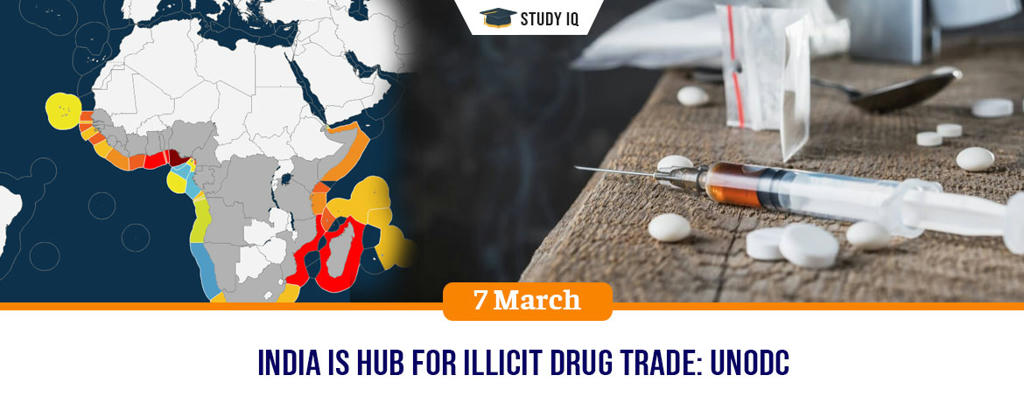 India is hub for illicit drug trade: UNODC
Date: 07 March 2019
Tags: Tackling Security Threats
According to recent report released by United Nations Office of Drugs and Crime (UNODC), India is one of major hubs of illicit drug trade. The illegal drugs in India ranges from age-old cannabis to newer prescription drugs like tramadol and designer drugs like methamphetamine.
Highlights of UNODC Report
Global trend of purchasing drugs over internet, particularly on darknet trading platforms using cryptocurrencies has spread across South Asia and is particularly rampant in India.

More than 1,000 drug listings from India are published across 50 online crypto-market platforms.

India is also transit country for illicitly produced opiates, in particular heroin. The route used by traffickers to smuggle opiates through South Asia is alternative part of so-called southern route, which runs through Pakistan or Iran, via Gulf countries, continues to East Africa and on to destination countries.

India, Australia, France and Turkey accounted for 83% of global production of morphine-rich opiate raw materials in 2017.

India produced 66 tonnes of opium in all forms, including morphine. Only 10% of available morphine was directly consumed for pain management, and up to 88% was converted into codeine which is used to manufacture cough medication.
United Nations Office of Drugs and Crime (UNODC)
It is global leader in fight against illicit drugs and international crime. It operates in all regions of world through an extensive network of field offices.

It was established in 1997 by merging of UN Drug Control Programme and Centre for International Crime Prevention. It is headquartered in Vienna, Austria.

It is mandated to assist member states in their struggle against illicit drugs, crime and terrorism.

It relies on voluntary contributions, mainly from Governments, for 90% of its budget.
Three pillars of UNODC work programme
Conduct field-based technical cooperation projects for capacity building of member states to counteract illicit drugs, crime and terrorism.

Conduct research and analytical work to increase knowledge and understanding of drugs and crime issues and expand evidence base for policy and operational decisions.

Assist states in ratification and implementation of relevant international treaties, the development of domestic legislation on drugs, crime and terrorism etc.